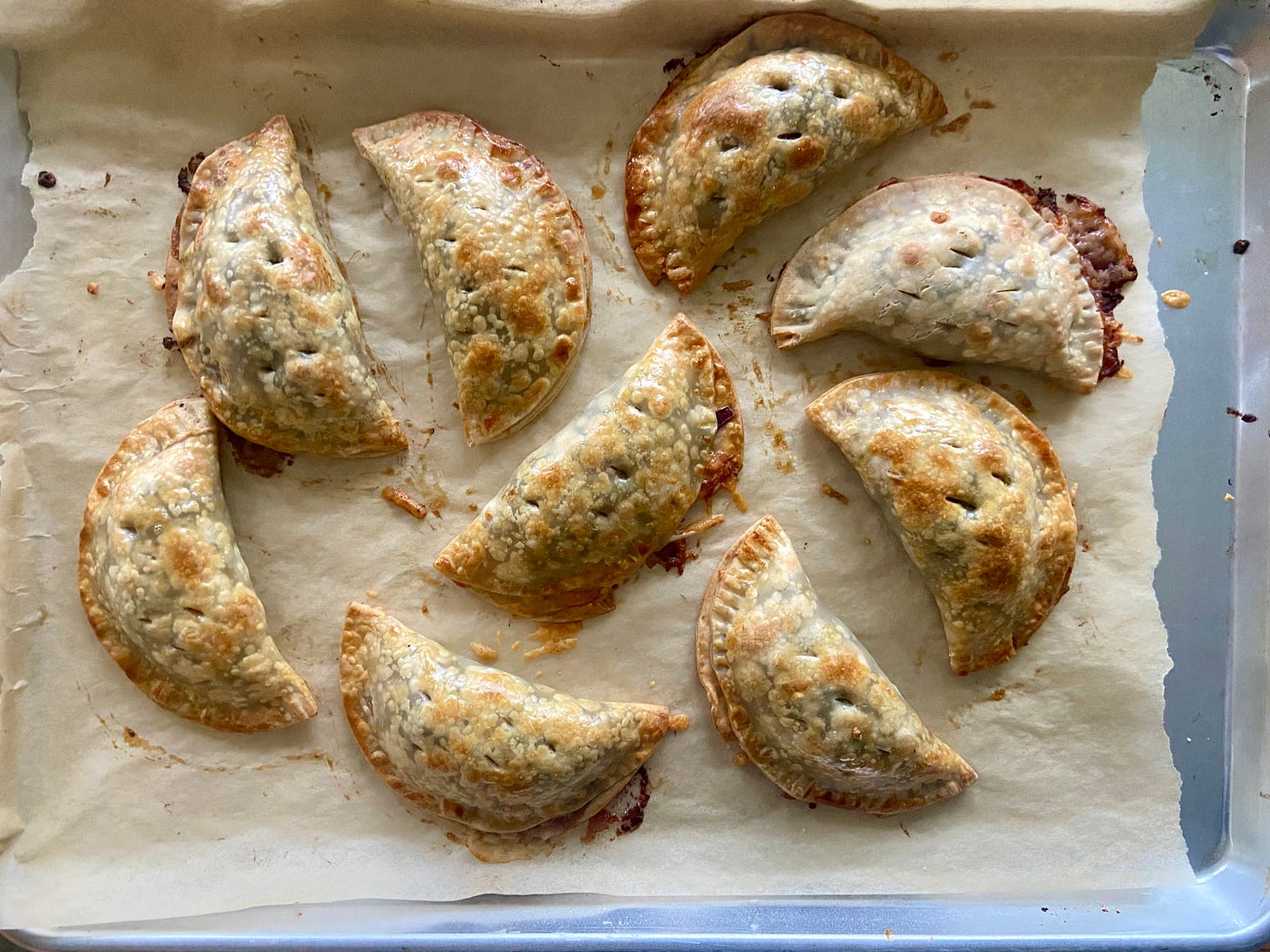 Moving was stressful — lists upon lists upon lists upon lists — but I'll tell you one part of it that was downright therapeutic: Cooking down the fridge. It's that magical combination of creativity and frugality that feels almost like a competitive sport to me. (Me against…the trash can?) Not to brag, but I'd definitely make varsity. There were ice cream sandwiches made with half a pint of ice cream and a roll of chocolate chip cookie dough I had frozen and forgotten about months ago. There were gingery cabbage-and-carrot stuffed dumplings using wrappers hiding in the furthest recesses behind the ice box. And there were these very comforting black bean and pickled onion empanadas, essentially a mash-up of an old DALS black bean burrito recipe and my colleague Bianca Cruz's mom's empanada recipe. I had half a head of Napa slaw from the market, so a quick slaw made it dinner. And speaking of sports: If I was still feeding kids on family-dinner-decimating late-night practice schedules, I'd do my future weeknight self a favor and freeze them for a quick grab-and-go meal.Here's the how-to:
Black Bean Empanadas with Pickled Onions
Make sure to plan ahead for thawing the frozen empanada discs. It takes about 30 minutes. Makes 10 empanadas, enough for 2-3 people. If you're making for later, bake them fully, let cool slightly, then freeze in an airtight container or freezer bag. When you're ready to eat them, place on a baking sheet and cook at 425°F for 25-30 minutes.
For Onions
2 cups water
3 tablespoons red wine vinegar
2 tablespoons sugar
1 teaspoon salt
1 medium red onion, halved lengthwise and thinly sliced crosswise
For Filling
2 tablespoons neutral oil
1 garlic clove minced
1 jalapeno, seeded and trimmed of white pith to desired heat level, minced
1 1/2 cups cooked black beans (or 1 15-ounce can), drained
1/4 teaspoon cumin
1/2 teaspoon all-purpose adobo seasoning, such as Badia
2-3 scallions, white and light green parts only, minced
10 frozen 5-inch empanada discs, completely thawed
1 cup shredded cheddar
1 egg, whisked
Preheat the oven to 400°F.
Prepare the onions: Bring water, vinegar, sugar, and salt to a boil in a heavy saucepan. Add the onion, and simmer, uncovered about 3 minutes. Remove the pan from the heat and let the onions cool until they are almost room temp.
In a small frying pan, heat the oil over medium heat and add garlic and jalapeno, cooking until aromatic and soft, about 1 minute. Add the beans, cumin, and adobo seasoning and cook for 2 to 3 minutes while gently mashing the beans with the back of a fork. Stir in scallions. Add a tablespoon or two of water as needed to prevent drying out. Turn off heat.
Line a baking sheet with parchment paper. One at a time, on the baking sheet, take an empanada disc and add 1-2 tablespoons of bean filling, three or four thin slices of pickled onions, and 1 to 2 tablespoons of cheese in the middle of the disc. Take one side of the disc and cover the filling––giving you a half circle shape. With the back of a fork, seal the edges by pressing down on the open seam on both sides. Repeat for all empanada discs. Using a sharp knife, slice small slits in the top of each to allow steam to escape, then brush each with egg wash. (I experimented with not brushing one with egg wash — upper right — because I find this step so fussy, but it turns out it does really make a difference in overall appearance, and therefore appeal.)
Bake for 20-25 minutes until golden brown. Serve with salsa and sour cream.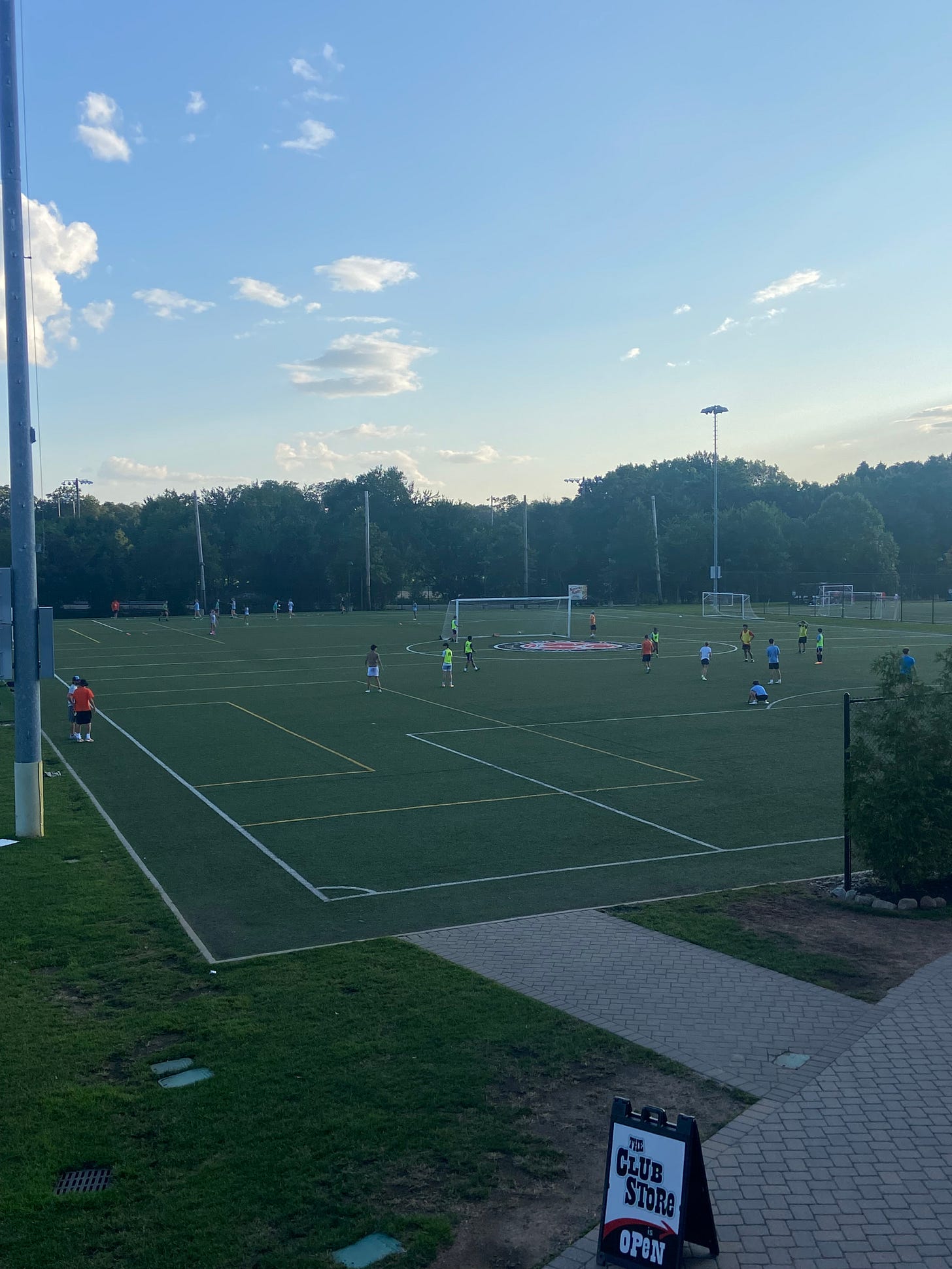 P.S. I know this probably seems crazy, but before Abby left for college pre-season I took her to practice one last time even though she's fully licensed and has been driving herself there for years. Parents who are in the thick of it and dread all that driving: I'm here to tell you that you might miss it someday.
P.S. For more simple vegetarian recipes, check out my New York Times bestselling book The Weekday Vegetarians. Reminder: All the fun stuff these days happens in the Dinner: A Love Story newsletter on Substack, which is consistently in the Top 10 most-read food newsletters on the entire platform. You can subscribe here.