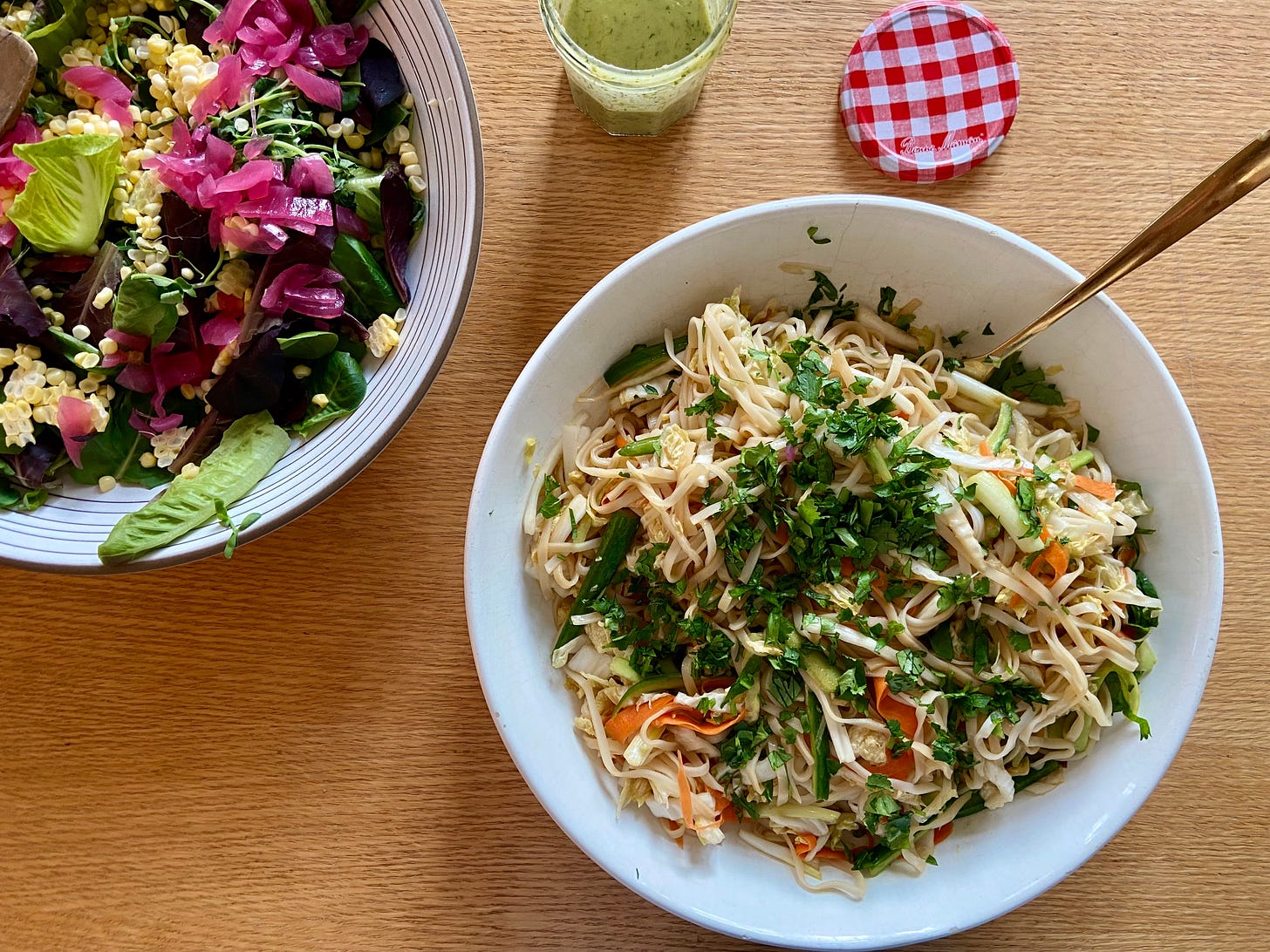 When Hannah Che's The Vegan Chinese Kitchen first arrived on my desk, it was a 90-degree morning in July. I started flipping through the pages, and I'm not kidding, within 10 minutes I was putting together this dinner you're looking at above: Cold Vermicelli and Cabbage Salad. I had leftover rice noodles and the rest of the ingredients are pretty much staples in my house — cabbage, cilantro, carrots, scallions. It took under 20 minutes to get it in the refrigerator where the chilling and the melding of flavors happened as I just went about my work day. (Why is this so satisfying?!) I found myself making a version of the salad for the rest of the summer, particularly when I was cooking for a vegan or a vegetarian was at the table — it's just the kind of centerpiece that I'm always looking for on that occasion, 90 degrees or not.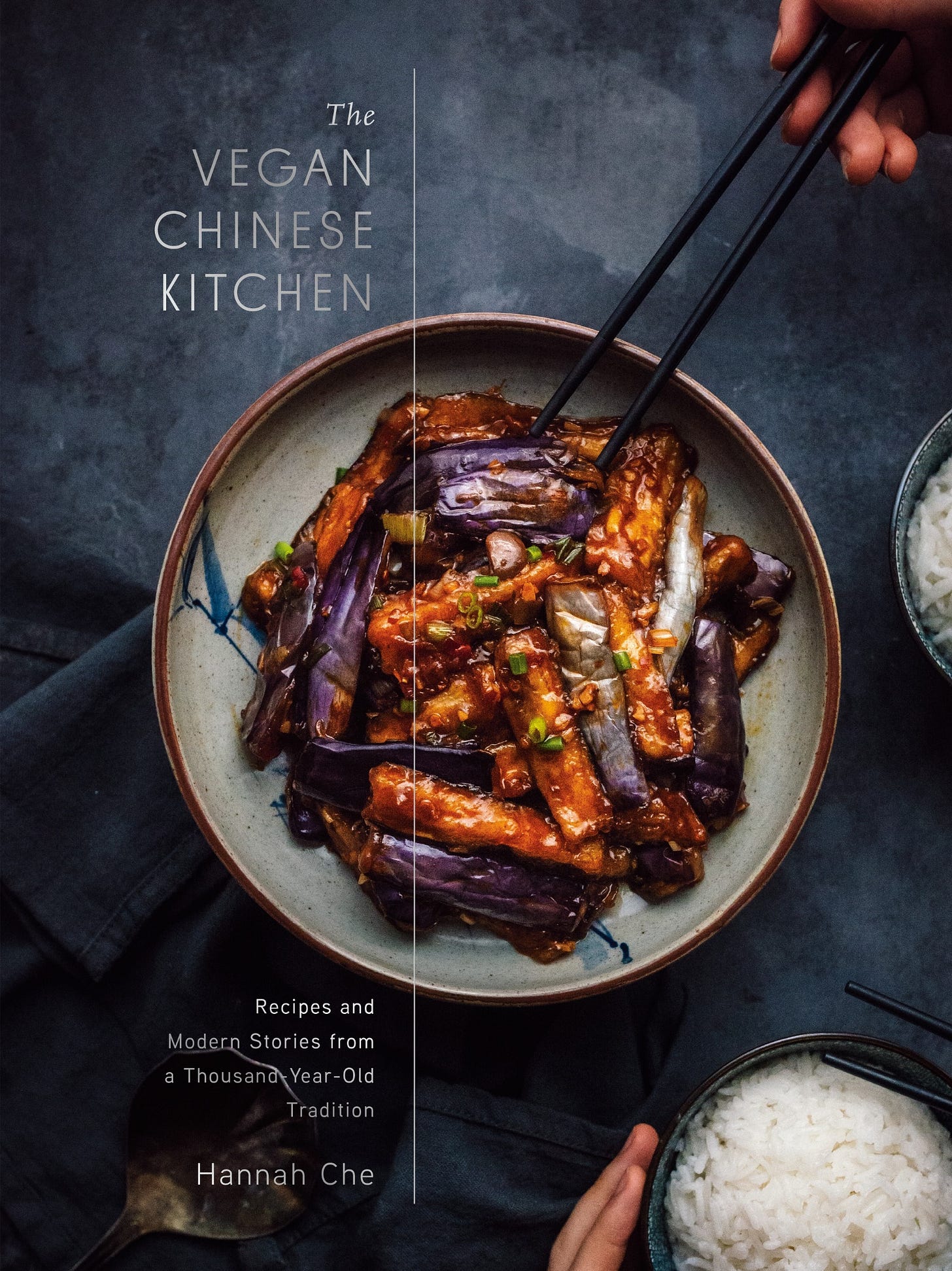 Cold Vermicelli and Cabbage Salad
The only thing I didn't have on hand was MSG, so I used mushroom powder. I think it would still be fine to omit, though you might need a little more soy sauce to compensate. [Excerpted From The Vegan Chinese Kitchen by Hannah Che with permission]
½ medium head (1 pound) napa cabbage
1 small Persian cucumber, thinly julienned
1 teaspoon kosher salt, plus more to taste
2 ounces mung bean vermicelli noodles, soaked in warm water for 10 minutes (I used rice noodles)
½ medium carrot, finely julienned
1 scallion, both white and green parts, cut into 3-inch segments and thinly julienned
4 garlic cloves, finely chopped
3 tablespoons soy sauce
3 tablespoons pale rice vinegar
2 tablespoons sugar
½ teaspoon MSG (I didn't have MSG, so used mushroom powder)
2 tablespoons toasted sesame oil
½ cup coarsely chopped fresh cilantro
Separate the cabbage into leaves. Lay out one leaf and slice it horizontally through the white stem portion to make it thinner. Repeat with the remaining leaves, then stack and cut them crosswise into ¹⁄₈-inch shreds. Place in a colander with the cucumber and toss with the salt. Meanwhile, bring a large pot of water to a boil. Add the vermicelli and cook according to the package instructions. Rinse under cold water and drain. Snip with kitchen scissors into shorter, more manageable lengths.
Squeeze out the excess liquid from the cabbage and cucumber by pressing them between your hands. Drop each squeezed handful into a large bowl without rinsing it. Add the vermicelli noodles, carrot, scallion, garlic, soy sauce, vinegar, sugar, MSG, and sesame oil and stir well. Taste and adjust the salt and other seasonings as needed.
You can enjoy this immediately or chill it in the refrigerator, covered, for a few hours to let flavors meld. Stir in the cilantro just before serving for the freshest flavor.
P.S. For more simple dinner recipes like this one, check out my New York Times bestselling book The Weekday Vegetarians. Reminder: All the fun stuff these days happens in the Dinner: A Love Story newsletter on Substack, which is consistently in the Top 10 most-read food newsletters on the entire platform. You can subscribe here.