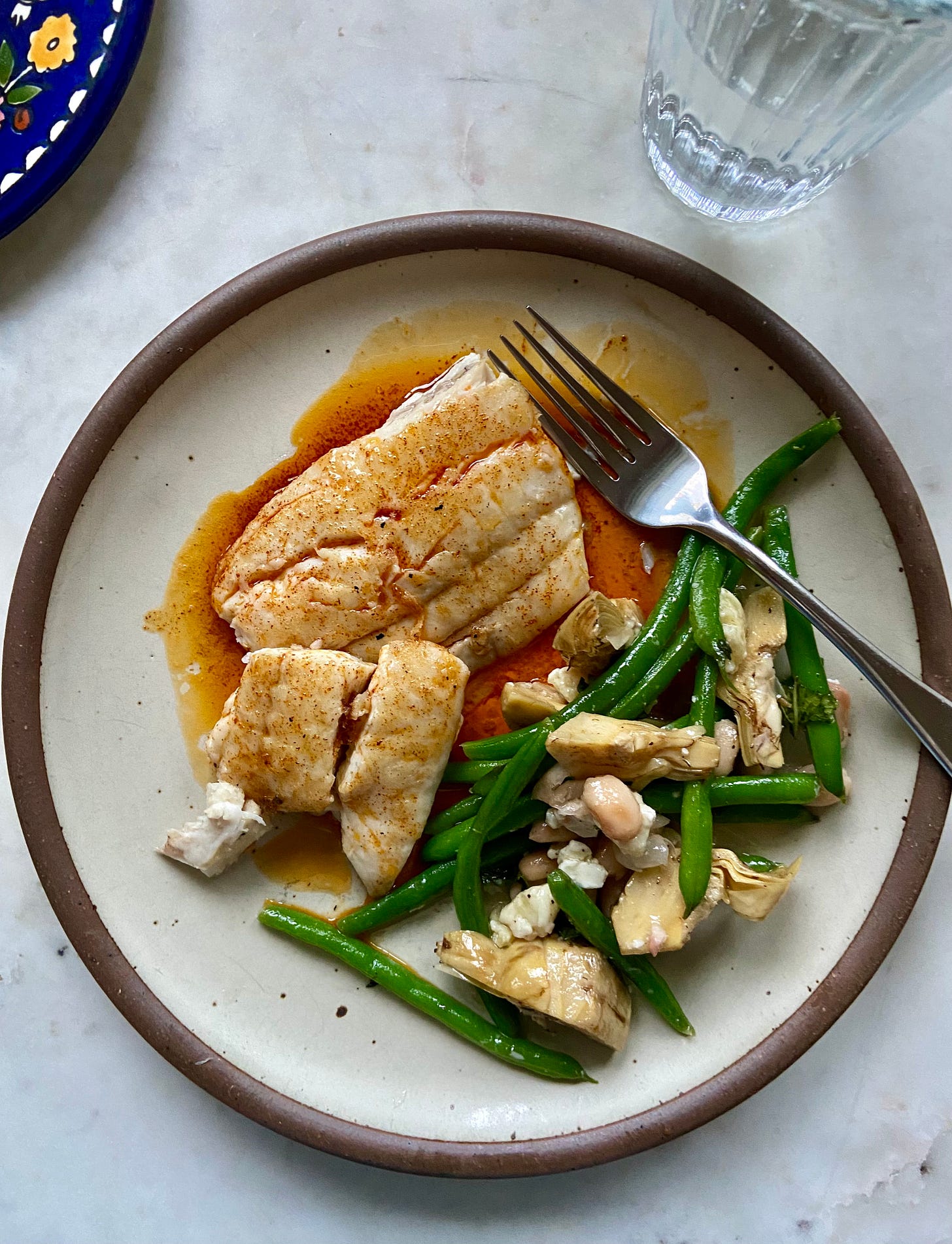 Well, I finally did what I've been threatening to do since February's London visit: I recreated the fish we ate at Noble Rot, that cozy black-wood-paneled restaurant on charming Lambs Conduit street in Bloomsbury that I still haven't shut up about. We ate some pretty amazing food in London, but I think the fish we ate at Noble Rot is the dish I'm thinking about so many weeks later because of how absurdly simple and elegant it was. The whole thing, as I see it, calls for three main ingredients: A mild white fish (we used flounder; they used a fish called slipsole, slightly more firm), butter, and smoked paprika. In other words, I knew we'd be able to execute something close to it in our own kitchen back home. And we did. Good lord, it tasted amazing. And I'm proud to say the recipe is now on The Official Dinner: A Love Story Rotation. Thank you for the inspiration, Noble Rot.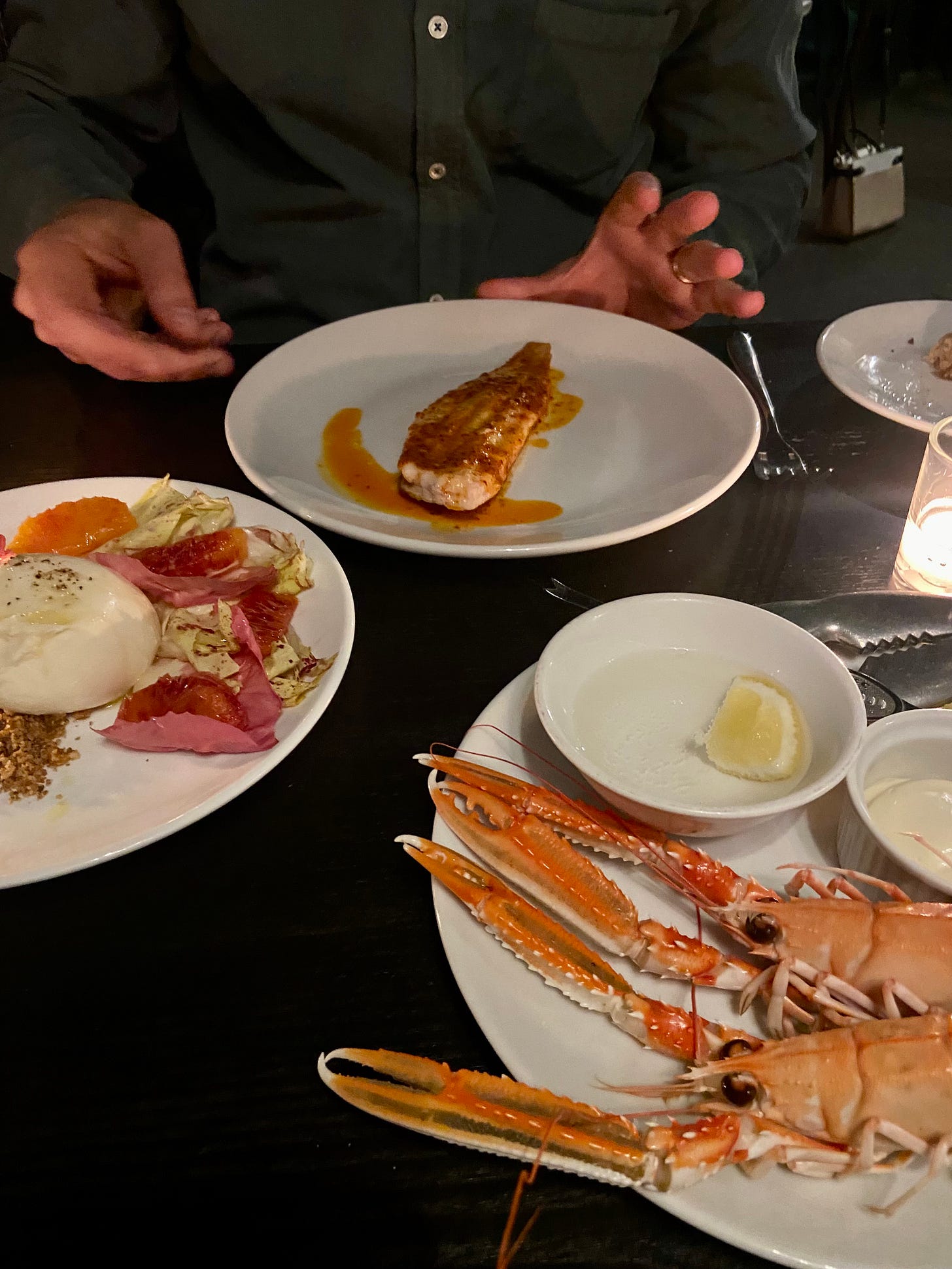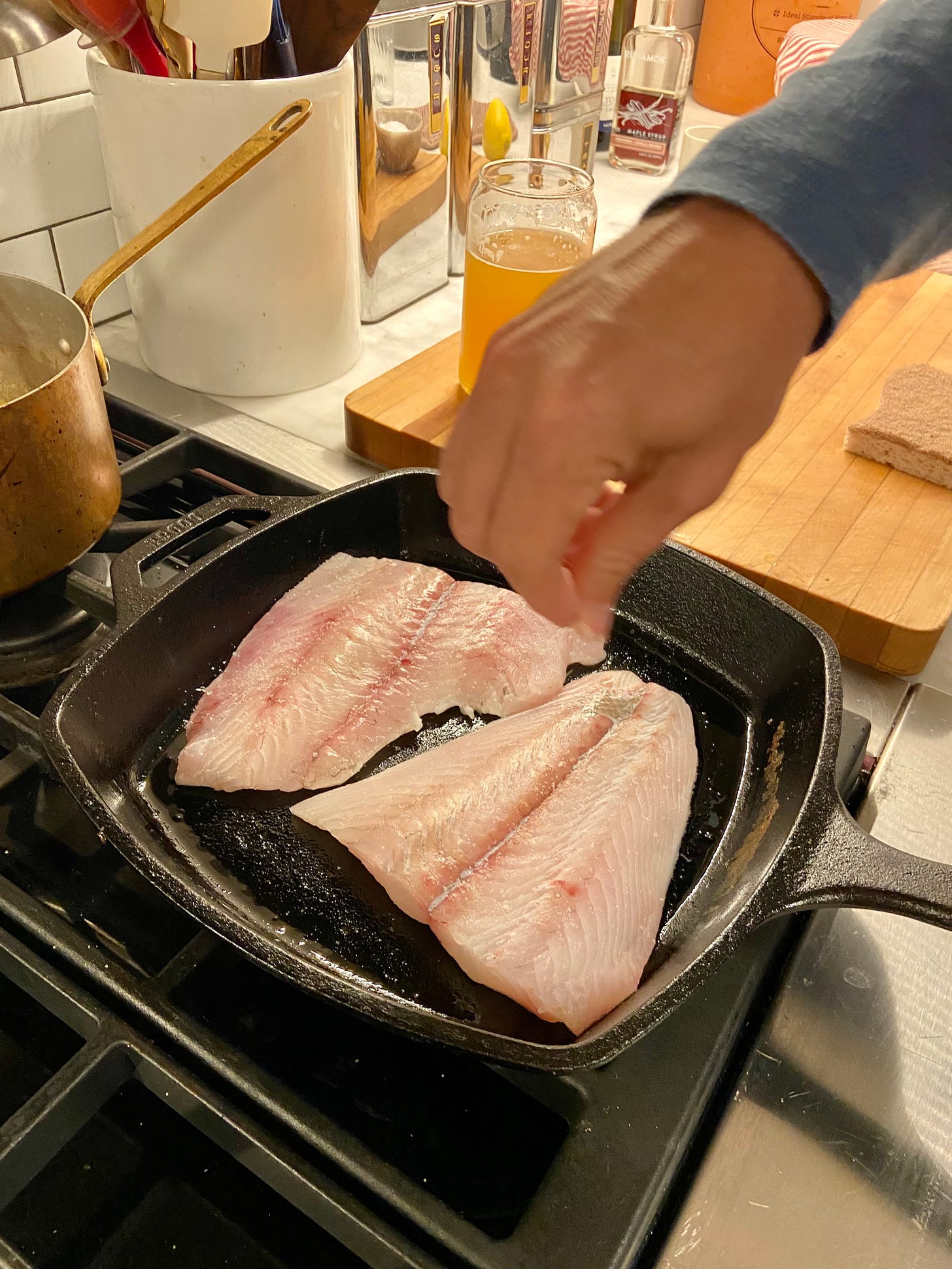 Pan-Fried Fish with Smoky Brown Butter
I know I don't need to remind you what the most important rule is when a recipe calls for so few ingredients: Make sure those ingredients are as fresh and high-quality as possible…crucially the fish. As for the brown butter, please know if you've never made it before that it's not hard, but it's also not the kind of forgiving, wing-it technique that I tend to write about. It definitely needs a little babysitting. Serves 2. Can be doubled.
4 tablespoons unsalted butter
1 teaspoon smoked paprika
sea salt
1 tablespoon olive oil
1 pound (two 1/2-pound filets) mild white fish such as flounder, sole, gray sole
kosher salt and freshly ground black pepper

Make your smoky brown butter: Add the butter to a small saucepan set over medium heat. Do not leave your stovetop perch! Watch as the butter melts, then foams, then begins to brown, swirling occasionally as you go. The whole process should take about 4 minutes, but its really an eyeball (and an aromatic) thing: As soon as it starts to smell nutty and you start to see the brown speckles at the bottom of the pan, remove the pan from the heat so the butter doesn't burn. Stir or whisk in the smoked paprika and a pinch of sea salt and set aside.
Heat a cast-iron skillet over medium-high heat and add olive oil. Season the fish with salt and pepper, then pan-fry for about 3 to 4 minutes total, flipping once half-way through. (To measure doneness, the fish should feel firm to the touch but not mushy or rock hard.)
Remove filets to dinner plates and spoon a tablespoon or two of smoky brown butter on top as shown.
P.S. For simple vegetarian recipes, check out my New York Times bestselling book The Weekday Vegetarians. Reminder: All the fun stuff these days happens in the Dinner: A Love Story newsletter on Substack, which is consistently in the Top 10 most-read food newsletters on the entire platform. You can subscribe here.