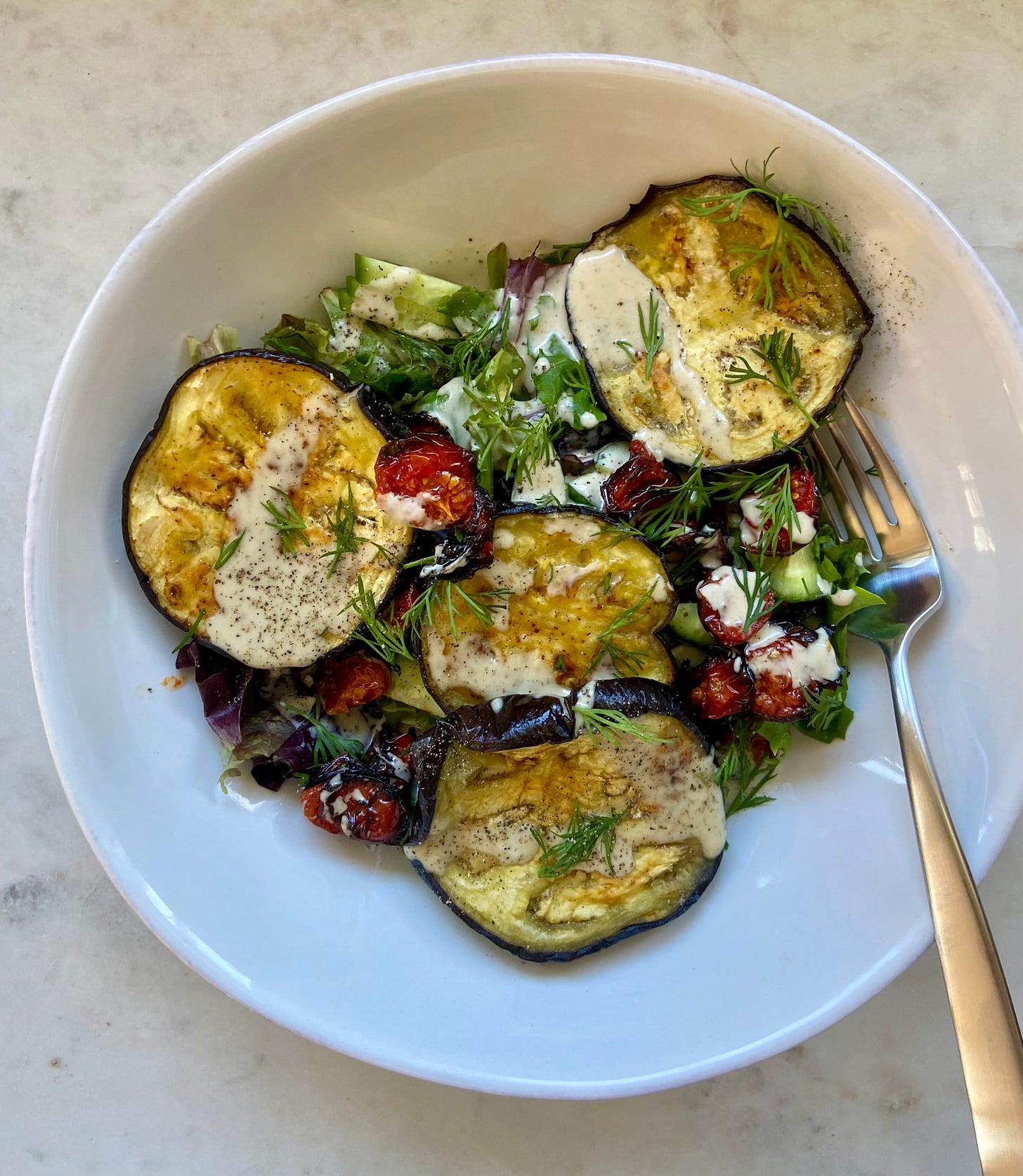 I've gotten really into shoving whatever vegetables I've got into a 400°F oven soon after breakfast so I have something hearty and healthy waiting for me by lunch time. (Perks of working from home, yes, I know.) Here are three recent winners, which you should of course feel free to serve for dinner.
Roasted Eggplant & Tomatoes with Tahini Dressing
1. Roast Vegetables: Toss eggplant slices and halved tomatoes in olive oil (I try not to drench the eggplant) salt and pepper and roast on a parchment-paper lined cookie sheet for 25-30 minutes. Keep checking — you don't want tomatoes, which cook faster, to burn. Let cool.
2. Make Maple-Tahini Dressing: Whisk together 1/4 cup tahini (I love Soom premium), 2 teaspoons maple syrup, 1 tablespoon olive oil, dash hot sauce, 1/4 teaspoon kosher salt, and 1 tablespoon water at a time (up to 4 tablespoons) until it reaches drizzle-able consistency. (Depending on your tahini, it might seize for a bit, but keep adding water and whisking, and it will loosen.)
3. Assemble: Combine roasted vegetables, something fresh (dill, cucumbers, a few lettuce leaves), and dressing. Top with za'atar or crushed pistachios. 
Note: Also works with Delicata Squash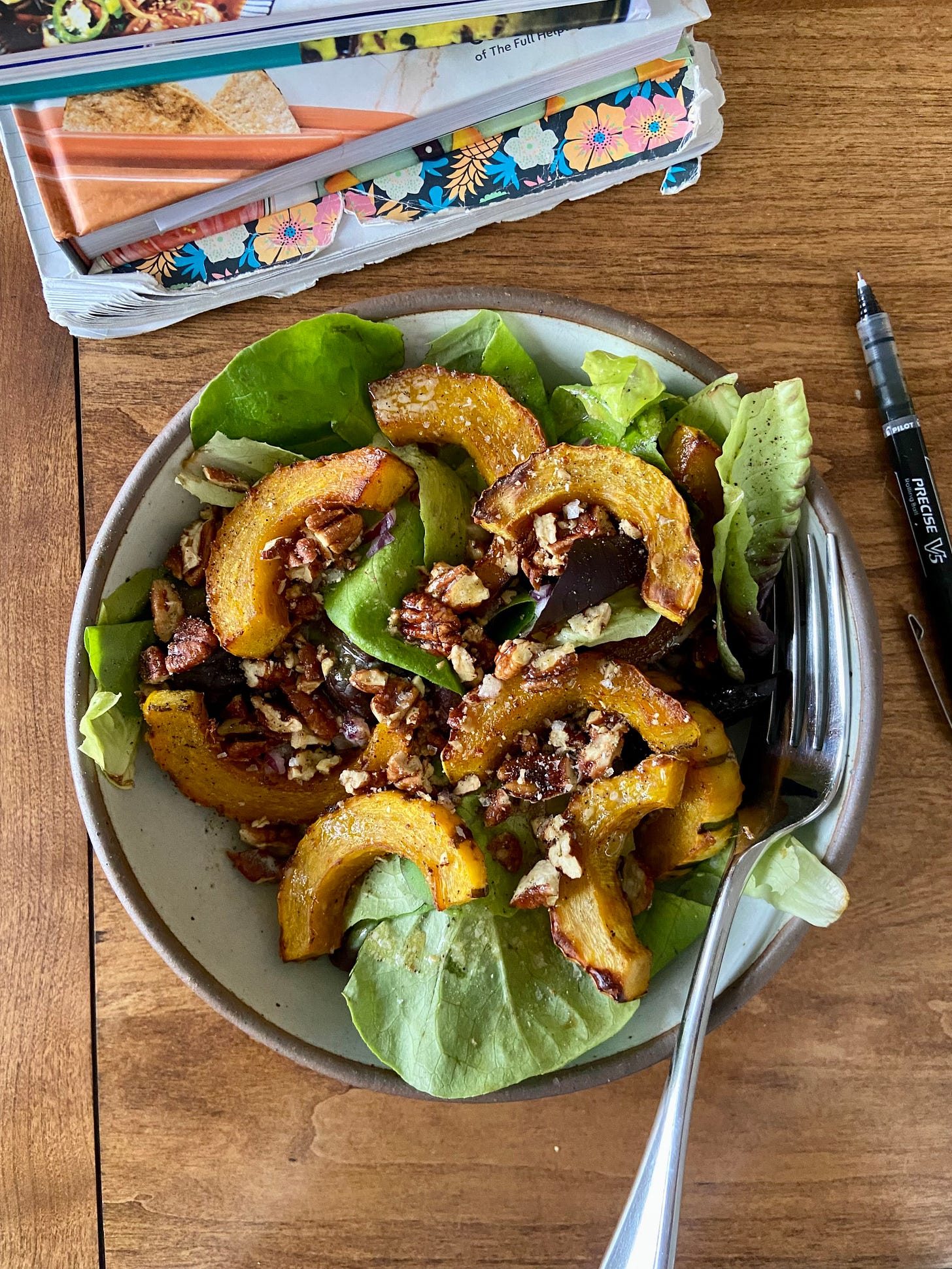 Delicata Squash with Greens and Candied Pecans
Prep Squash: Toss delicata squash (sliced and seeded) in olive oil, salt and pepper and roast on a parchment-paper lined cookie sheet for 25-30 minutes. Let cool.
Make Dressing: In a small jar or measuring cup, shake or whisk 1/4 cup lemon juice (from about 1 1/2 lemons), 1 1/2 teaspoon Dijon mustard, 1 1/2 teaspoon honey, salt and pepper. Once mixed, shake or whisk 1/3 cup olive oil into jar in steady stream until emulsified.
Assemble: Combine delicata with greens, minced red onions or scallions, dressing, and chopped spicy pecans. (These are from Trader Joe's but be warned, they are absurdly addictive.)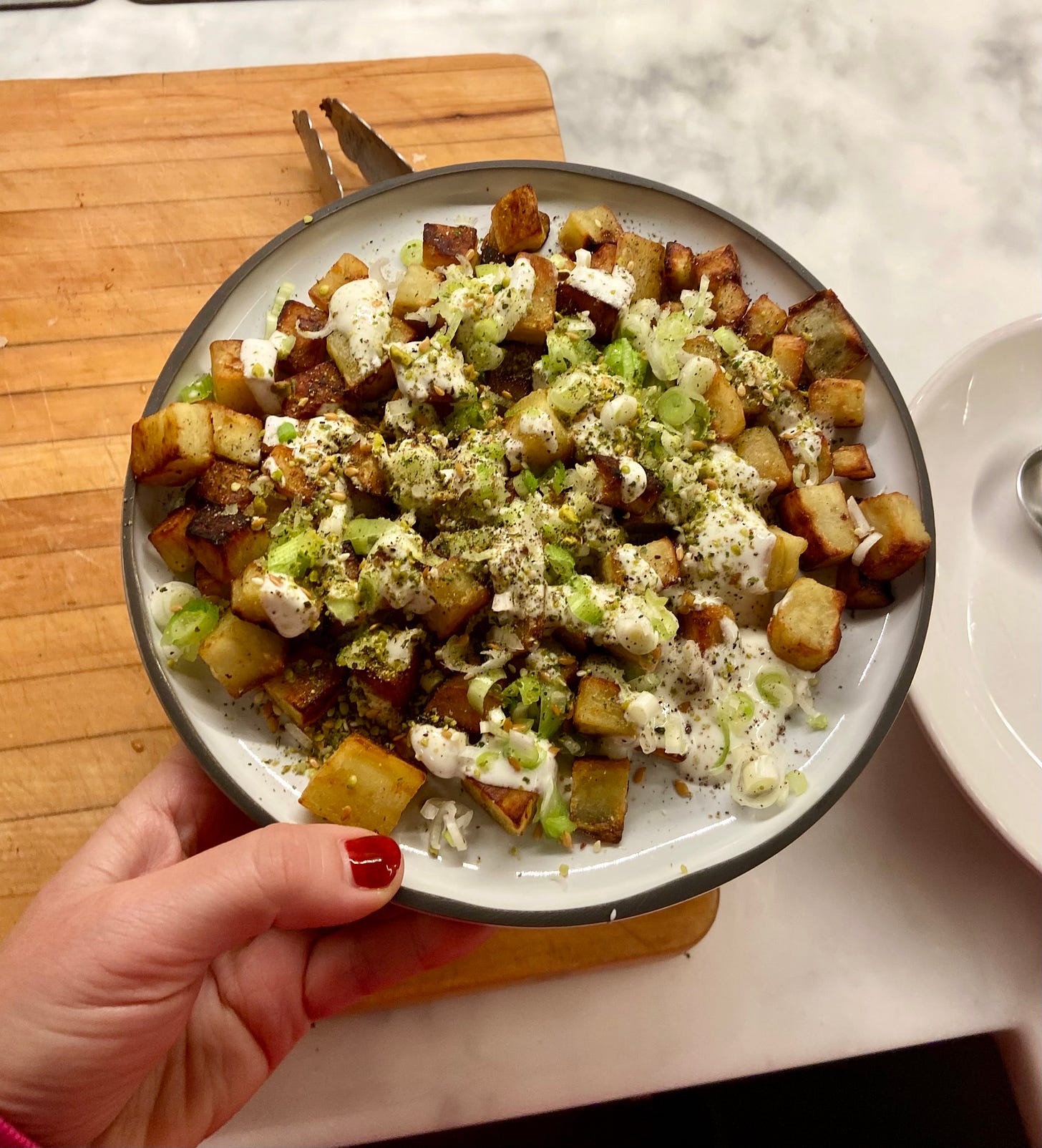 Japanese Sweet Potatoes with Lemon Yogurt, Scallion, and Dukkah
We made this one for dinner, actually, and it was based on a side dish Andy ordered at Animal in L.A. and couldn't stop talking about. To recreate it, I par-boiled two peeled and cubed Murasake potatoes (the not-so-cloyingly sweet variety with purplish skin and white flesh) for about 8 minutes…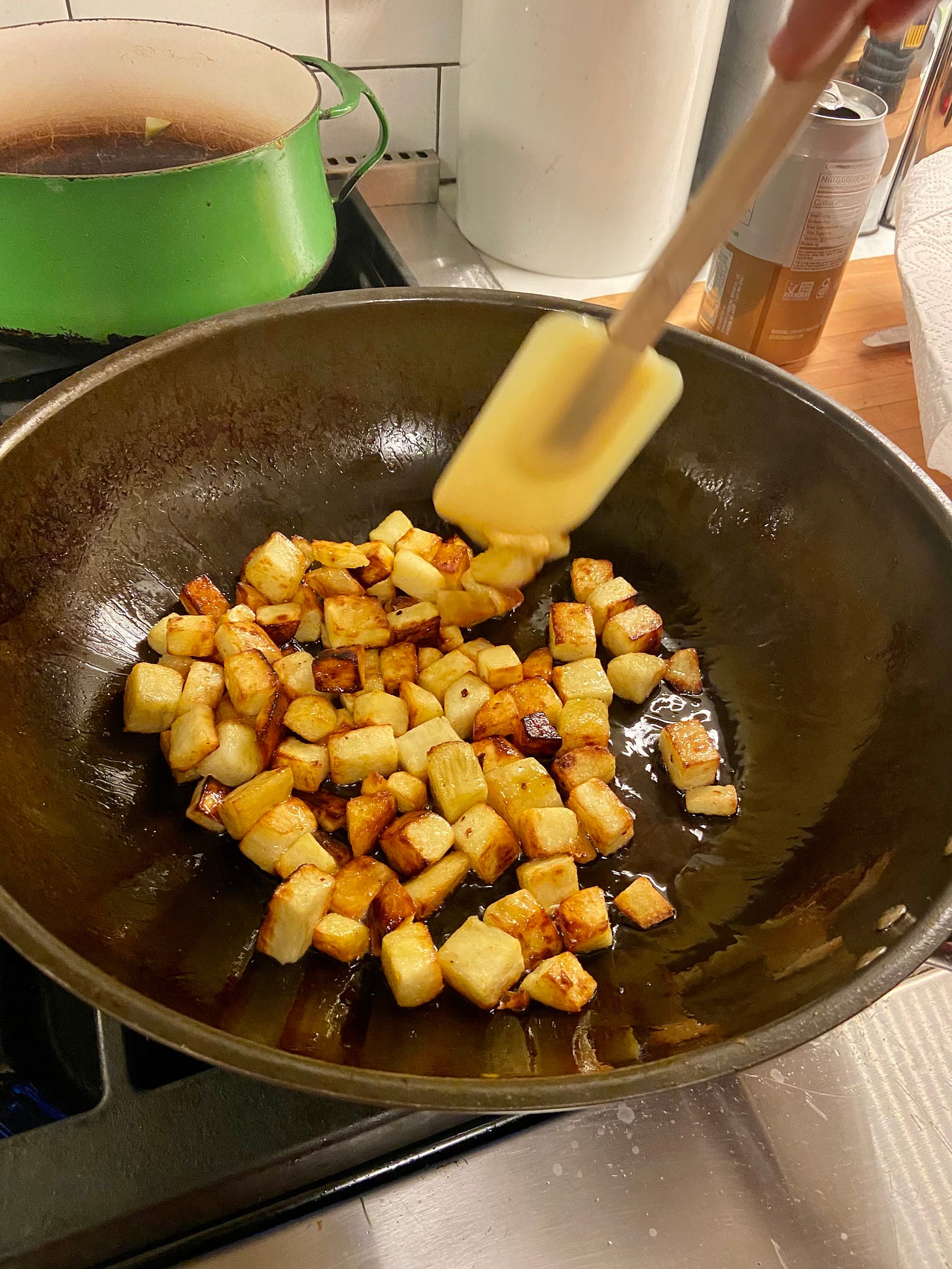 …then fried them in a little vegetable oil to crisp up, and topped with lemon yogurt (1/3 cup plain yogurt mixed with 1 tablespoon lemon juice, salt, and pepper, and enough water, about 1 tablespoon, to make it drizzle-able), finely minced scallion and dukkah. (You can also just use za'atar and finely minced pistachios if you can't find dukkah.) Recipe can be doubled of course. The one above served two.
P.S. For more simple vegetarian recipes like these, check out my New York Times bestselling book The Weekday Vegetarians. Reminder: All the fun stuff these days happens in the Dinner: A Love Story newsletter on Substack, which is consistently in the Top 10 most-read food newsletters on the entire platform. You can subscribe here.