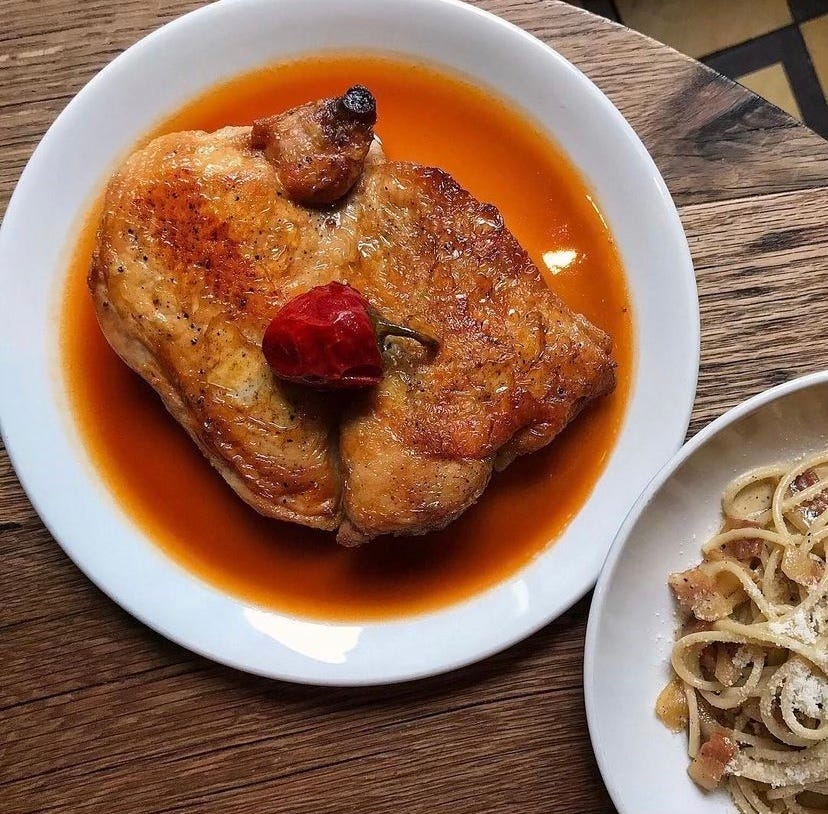 A few weeks ago, we met some friends for dinner at Maialino, Danny Meyer's recently relocated Roman trattoria and wine bar that is now housed in the Redbury Hotel and, with its checkered tablecloths and sepia portrait-lined walls, still as charming as ever. We ordered the obligatory cacio e pepe and the vongole, and it was all wonderful, of course, but I confess I only had eyes for the Pollo alla Diavola, a half chicken — skin divinely crisped, meat next-level tender — bathing in a pool of bright orange, pickley peppery sauce. (I mean, come on, how good does that sound?) Naturally, the following weekend, when I was flipping through Samin Nosrat's seminal Salt, Fat, Acid, Heat, in search of something Saturday-night worthy, I stopped on her recipe for Chicken and Vinegar. It wasn't exactly the same, but it was enough of a launching point to get me going in the right direction. I added tomato paste and Tabasco sauce in order to recreate the sauce (also borrowing a little from Gabrille Hamilton's famous-in-my-house cider-braised chicken) and, tbh, really regretted not using skin-on thighs because that crispy sear on the chicken is pretty important. Still, I was happy with the decidedly tangy result…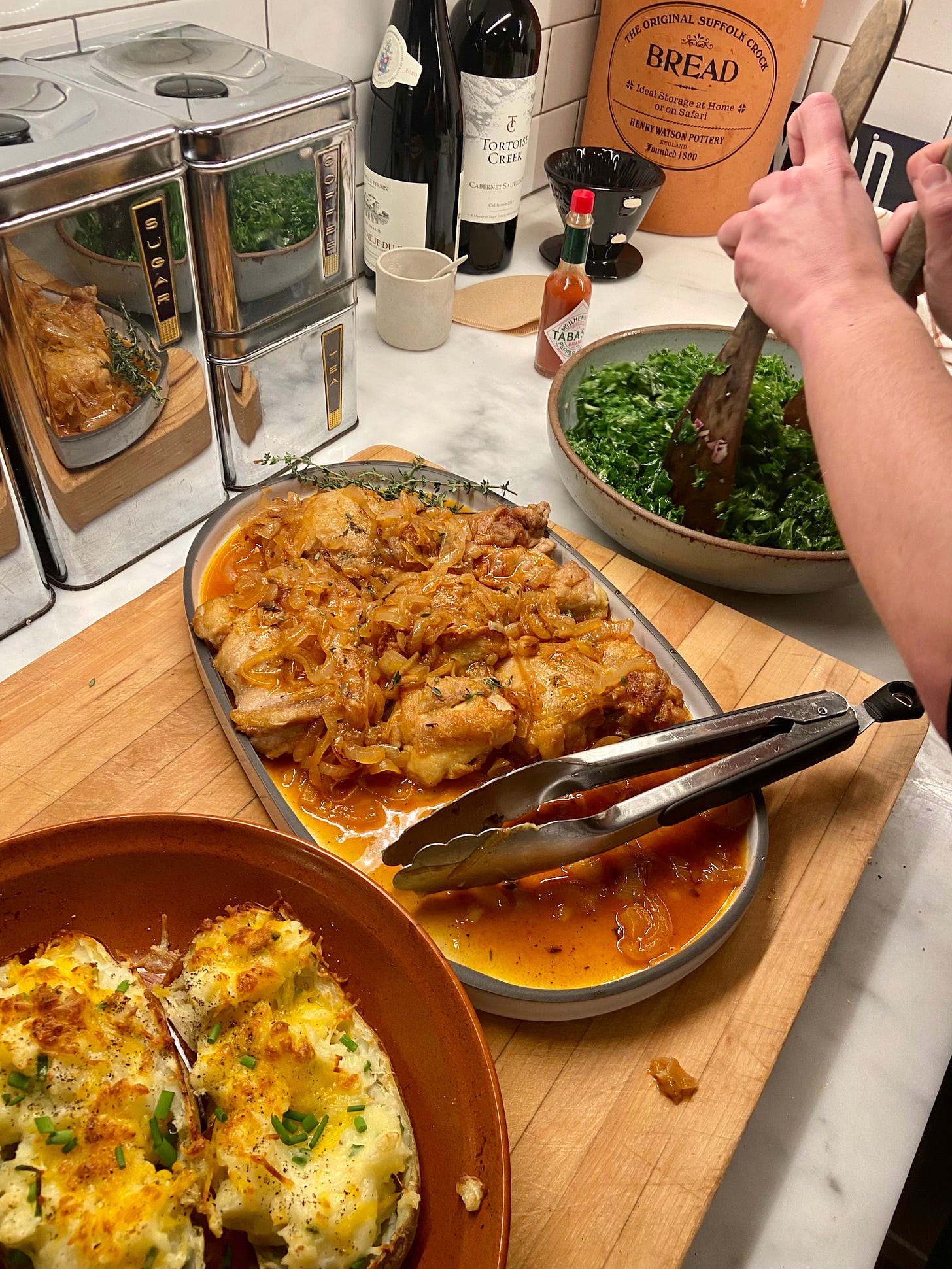 …which we served with twice-baked potatoes, because they are Phoebe's favorite and because, well, we aim to please.
Chicken and Vinegar
Inspired by recipes from Samin Nosrat's Salt, Fat, Acid, Heat and Gabrielle Hamilton's Prune. Serve with a simple kale salad.

1/2 cup all-purpose flour
kosher salt and freshly ground black pepper
1 tablespoon olive oil
3 pounds bone-in, skin-on chicken thighs
4 tablespoons butter
2 medium sweet onions, sliced thinly
1 clove garlic, minced
1 tablespoon tomato paste
1 teaspoon Tabasco sauce
3/4 cup dry white wine
6 tablespoons white wine vinegar
2 tablespoons thyme leaves or tarragon leaves, chopped
Place the flour on a plate or dish, and season with salt and pepper. Add the olive oil to a large Dutch oven set over medium-high heat. When the pan is very hot, start dredging the chicken pieces in the flour then adding to the pot. Cook in batches, three or four pieces at a time, depending on your pot size — you'll want them to have room to brown. Let the chicken sit undisturbed for at least 6 minutes to ensure a good sear. Flip the chicken and cook another 2 to 3 minutes, then remove each piece to a paper-towel lined plate. They do not have to be cooked through. Repeat with remaining chicken.
Carefully discard the fat and wipe down the surface of the pan. Turn heat to medium. Add the butter and onions, salt, and pepper, cooking until the onions are wilted and starting to caramelize, about 15 to 20 minutes. Add the garlic and cook another 2 minutes. Turn up heat slightly and stir in the tomato paste and Tabasco, cooking until the tomato paste darkens a little and looks toasty. Add the wine and vinegar, scraping down the pan with a wooden spoon to release all the brown bits. Bring to a simmer.
Place half the herbs and all the chicken back into the pot without submerging the pieces. Cover leaving the lid slightly ajar and simmer another 25 minutes. Remove the chicken to a platter, then spoon the sauce and onions on top. Garnish with the remaining tarragon or thyme.
(Top photo credit: Maialino)