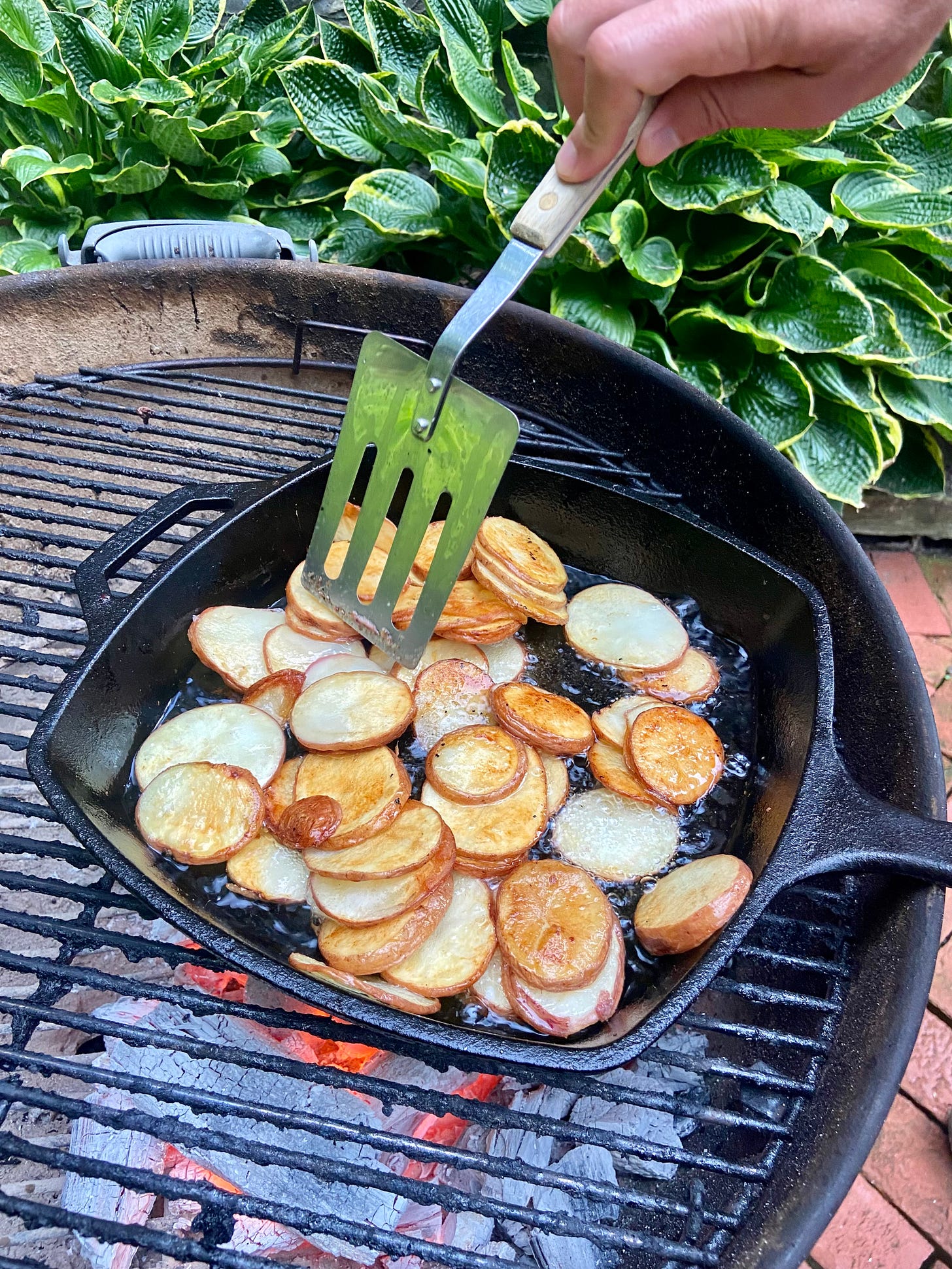 It's not summer til we eat…How would you finish that sentence? The list is long for us, but we managed to check off three major boxes this past week on our Maine vacation — First there was warm Triple Berry Pie with ice cream, which was store-bought, but really reminded me of the one I am about to embark on baking all summer long. (The recipe is from my 2016 book How to Celebrate Everything, but you can also find it in a 2021 dispatch back when my newsletter was just a baby!) Number 2: Grilled Salmon, which is of course, the Best Salmon! The color, the flavor, the char that dances so wonderfully with an herby yogurt sauce or, even better, this bed of spicy avocado sauce. (Don't even have to turn on the oven for that one, just the blender.) I love how dramatic and colorful it looks. (Grilled salmon also ups the tasty ante considerably on Salmon Salad, of course.)
Lastly, I'm adding a new one to the ever-growing list: Salt and Vinegar Campfire Potatoes, inspired by a little seafood shack in Maine that offered a spray-bottle of malt vinegar at the condiment station next to the ketchup. I'm not sure if it was meant for the fried fish or the fries, but we decided on the fries, British pub style, and then lost our minds. At home, we made the dish our way, pan-frying thinly sliced (< crucial!) unpeeled red potatoes in a 1/4-inch of vegetable oil in a cast iron pan set over the grill, tossing them every few minutes, then shifting the pan around to different heat zones on the grill to prevent burning. (You can of course do this on a stovetop over even medium-high heat, but then I can't call them "campfire potatoes" which sounds so summery and fun.) When the potatoes are crisp-tender, about 10 minutes total, remove to a paper towel lined plate or bowl to drain. Remove towel, then spray or douse with malt vinegar and sea salt.
P.S. For simple vegetarian recipes, check out my New York Times bestselling book The Weekday Vegetarians. Reminder: All the fun stuff these days happens in the Dinner: A Love Story newsletter on Substack, which is consistently in the Top 10 most-read food newsletters on the entire platform. You can subscribe here.