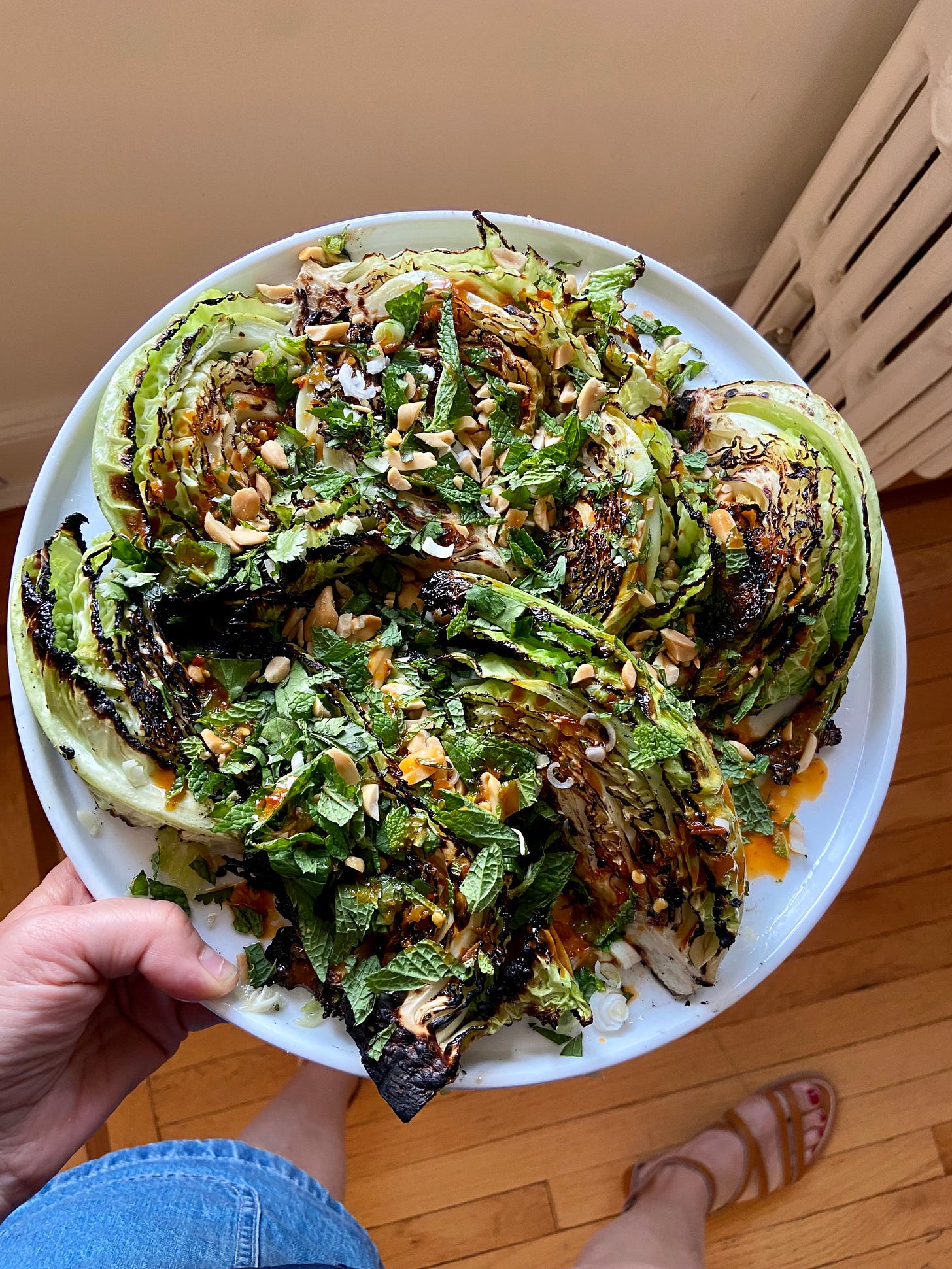 As you likely know by now, my most favorite kind of summer cooking is a simply grilled something surrounded by a bounty of farm-fresh, creative salads. (It always reminds me of my old magazine boss, Carrie, whose fashion philosophy was "Gap clothes, Prada accessories.") This is probably why I love Susan Spungen's new book Veg Forward so much. You might know Spungen, one of the original Martha Stewart alums, from her legendary annual holiday cookie round-ups. Or you might know her from her newsletter Susanality, a dependable source of inspiration for baking and grilling and — especially — vegetable-forward cooking. As she writes in her intro: "The veggies in this book are driving the bus, they're not just along for the ride. Every idea for every recipe puts the vegetables first. They are never just tacked on as an afterthought." Exhibit A: Grilled Savoy Cabbage Wedges with Thai-inspired Dressing, shown above, which I made on Sunday night. Holy moly was that a bold, interesting Prada-esque vegetable dish. And so simple! We served it with a grilled salmon, and I loved the fact that most of my psychic energy was directed towards vegetables instead of the main. Next time, I'll serve the recipe alongside some baked tofu or seven-minute eggs, which would definitely earn it a spot in the Weeknight Dinner Hall of Fame.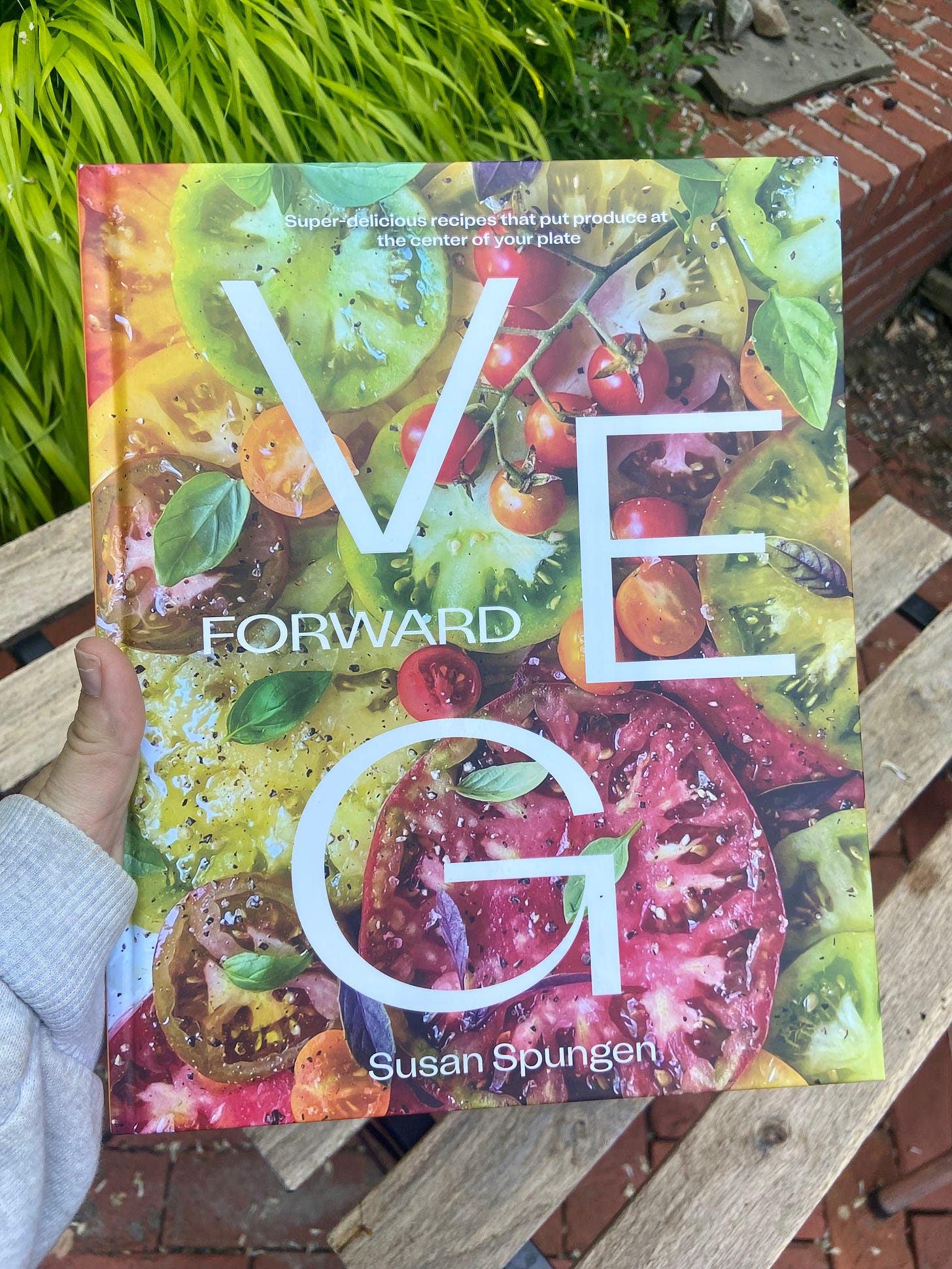 Anyway, I'm working my way through the rest of the book, which is organized by season, and at a certain point I just stopped dog-earing pages, because everything just looked so up my alley. Veg Forward is available everywhere books are sold. Here is the recipe:
Grilled Savoy Cabbage Wedges with Spicy Thai-inspired Dressing
From Susan: Cabbage makes a brief visit to a hot grill, where it takes on a slightly smoky flavor and some crunch. I serve it with a steak knife and fork. Savoy cabbage has a softer texture and milder flavor than ordinary cabbage. Don't be afraid to use the amount of fish sauce called for—it's essential to the well-balanced dressing. UPDATE from Jenny: If you don't have access to a grill or if you want to replicate the flavors in a slaw, you can also shred the cabbage (uncooked), then toss with the dressing and the toppings. But do not change a single thing about that dressing, it is perfect.
For the Dressing:
1 tablespoon lime juice
1 tablespoon light brown sugar
2 tablespoons rice wine vinegar
1 tablespoon fish sauce or Yondu
1 tablespoon chili garlic sauce or sriracha, plus more to taste
2 tablespoons vegetable oil Freshly ground pepper
For the cabbage
1 head Savoy cabbage (1 1/2 to 2 pounds)
1 1/2 tablespoons vegetable oil
Kosher salt
1 cup loosely packed mint leaves
Big handful cilantro sprigs
2 scallions, thinly sliced
1/4 cup salted peanuts, lightly crushed
To make the dressing: Blend the lime juice, brown sugar, vinegar, fish sauce, and chili garlic sauce or sriracha in a small bowl with a fork. Blend in the oil and pepper and set aside.
To grill the cabbage: Trim any wilted or torn outer leaves. Trim the bottom of the stem to remove the brown portion, but leave the stem and core intact so the wedges hold together on the grill.
Cut the head in half, wash well, and pat dry. Then cut each half into 4 wedges, for a total of 8 wedges. Spread out on a baking sheet and coat on all sides with the oil,then sprinkle lightly with salt.
Heat a gas or charcoal grill to medium-high. Grill the cabbage wedges for 2 to 3 minutes on each side until lightly charred on the edges and surfaces.
Arrange the cabbage wedges on a platter and drizzle with the dressing. Roughly chop most of the mint, reserving a handful of whole leaves for garnish. Top with the mint and cilantro and sprinkle with the scallions and peanuts.
We served the cabbage with the simplest grilled salmon filet…
And for dessert, Abby grilled up some pineapple rings…
…which we topped with leftover mint from the vegetables, and grated Sicilian dark chocolate.