I love the sour tang that tamarind brings to a dish, but buying and cooking with it has always been very intimidating to me. When a recipe calls for tamarind, do they mean the pods? The pulp? The concentrate? The puree? The ketchupy stuffI drizzle on dal? Well I finally conquered my fears back in March when I took on the Pad Thai recipe from Kenji López-Alt's magnum opus The Wok. (The recipe was very involved which is why it never made it on to this newsletter — who says I don't look out for you? — but you may recall my love letter to his game-changing Vegetable Fried Rice?) Kenji offered a solid tamarind primer, and guided me towards his preferred way to look for it, i.e. in pulp form, in a block that looks like this: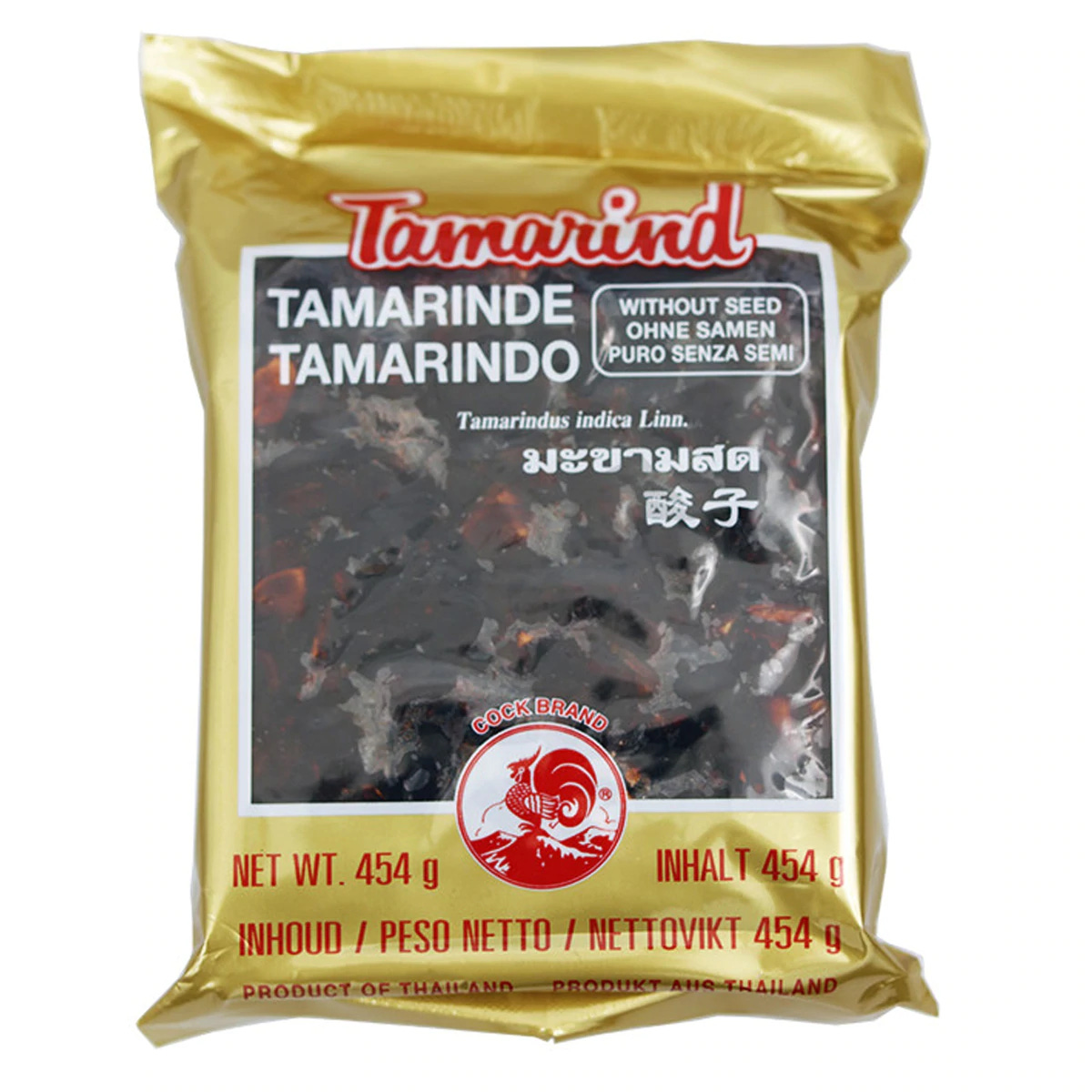 You can find it at any Asian supermarket and most Latin markets (I found it at H Mart), and it's usually in the produce section, underneath the fresh produce displays. (I found it underneath the mango bins.) Once you get the block home, you can break off what you need into a bowl, add an equal amount of very warm water and massage it to loosen the pulp, breaking it up with your fingers until, as Kenji writes, it "feels like very loose, squishy mud with fibers running through it." Run that through a strainer, pressing it with your fingers or a rubber spatula if you have to, until a puree with apple-sauce-like consistency remains.
It was so easy! So liberating! And overnight, my radar was cranked up to high alert for any recipe that called for tamarind. Which is exactly how I found myself clicking through Susan Spungen's last newsletter (Susanality, one of the most consistent sources of inspiration on substack in my opinion) to find her tamarind-glazed grilled chicken. We just grilled straight-up whole thighs and skipped the kebab-ing, but alongside some surprisingly sweet corn (with miso-butter!) and a green-goddess dressed salad, the line-up was just the ticket for Sunday family dinner. I love that moment when someone takes a bite and says something like "what on earth am I eating…" in the best possible way, like as if they can't place the flavor but they know they love it. That's the kind of recipe this is because that's the kind of ingredient tamarind is. Even if you're used to it, as this expert now is, the flavor is still a surprise and delight.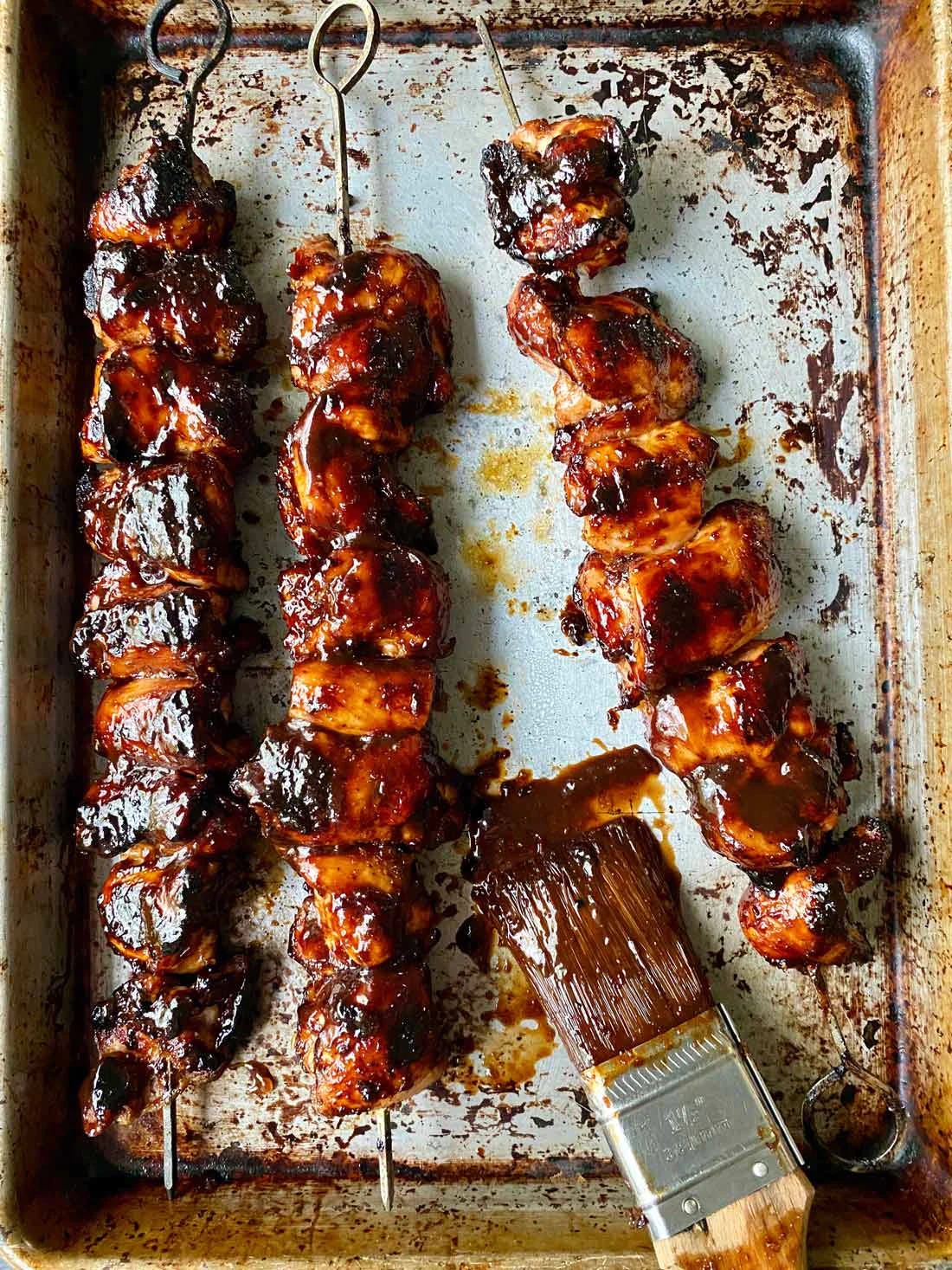 Susan Spungen's Grilled Chicken with Tamarind Glaze
(From Susanality)
You can also use chicken breasts here but watch carefully and cook for a shorter time to avoid drying them out.
¼ cup tamarind paste or puree (Susan asked Maya Kaimal to go deep on tamarind, and she explains other ways to buy and prep it)
2 tablespoons soy sauce
2 to 3 teaspoons freshly grated ginger (grated on a microplane)
2 garlic cloves, grated on a microplane
1 tablespoon chili garlic sauce
¼ cup ketchup
1 tablespoon honey
8 boneless, skinless chicken thighs, (approximately 2 lbs.)
Kosher salt and freshly ground pepper
Olive oil
Combine tamarind paste, soy sauce, ginger, garlic, chili garlic sauce, ketchup, and honey in a small bowl, and stir well with a fork. Set aside.
Season chicken thighs liberally with salt and pepper and drizzle with olive oil. Grill over medium-high heat for 10-12 minutes. Turn and cook for 6 more minutes, then brush with the glaze. Cook for an additional 6-8 minutes, turning and brushing with glaze every 2 minutes. Transfer to a platter and top with fresh herbs.
(Photo by Susan Spungen)