I think hands-down the best tofu is crispy tofu, i.e. when it's been dredged in cornstarch, then pan-fried in a generous amount of oil and tossed with some form of glaze or sauce. (Exhibit A: Hsiao-Ching Chou's Crispy Weeknight Tofu with vegetables.) But honestly, dredging and frying can be a pain sometimes, and when my friend Robin (by way of our friend Kate, who teaches cooking classes) introduced me to this baking method, the tofu dinner doors felt suddenly flung wide open. You simply toss tofu cubes in a large mixing bowl with cornstarch, soy sauce, and oil, then spread on a parchment-paper-lined (crucial that it's parchment paper and not foil) baking sheet to roast. They get a nice crispy edge and then become eminently tossable — into noodle dishes, into salads, into bowls. In The Weekday Vegetarians I use them in a bunch of recipes including Eggplant-Tofu Bowls with Sweet-Hot Chili Glaze (page 55); Cabbage-Kale-Tofu Salad with Citrusy-Ginger Dressing (page 65); The Wheat Berry Salad with Grapes, Arugula, and Feta (page 65). But I feel like I could fill a whole new book with recipes that deploy them deliciously, beginning with this Tofu, Pepper, Caramelized Pineapple Salad with Peanut Sauce I made last week inspired by a gorgeous looking Indonesian salad Lara Lee published in the Times.
First the Basic Baked Tofu Method:
1 (14- to-15-ounce) block extra-firm tofu, drained and cut into 1/2-inch cubes
3 tablespoons neutral oil, such as vegetable or grapeseed oil, or extra-virgin olive oil
2 tablespoons soy sauce
1 tablespoon cornstarch
1/4 teaspoon cayenne pepper (optional)
Preheat oven to 425°F. Line a sheet pan with parchment paper. In a bowl, toss the tofu with the oil, soy sauce, cornstarch, and cayenne (if using) and place on the prepared sheet pan. Bake until the tofu is golden and the corners look crispy, 15-20 minutes.
Tofu with Caramelized Pineapple, Peppers, and Spicy Peanut Dressing
Toss the following in a large bowl:
Roasted Tofu (above)
1 red bell pepper, cut into thin strips
6-8 scallions, sliced
1-2 cups bean sprouts (or cabbage)
1/2 long, red, medium-spicy chile (such as serrano), sliced as shown
1 cup chopped pineapples, pan-fried over medium-high heat in a little oil until caramelized, about 5 minutes total
1/2 cup chopped peanuts
large handful cilantro (about 1 cup), chopped

Drizzle with Spicy peanut sauce from The Weekday Vegetarians (you might want to stir in a tablespoon or so of water to thin it a bit) or you can use Lara Lee's.
I served everything with brown rice.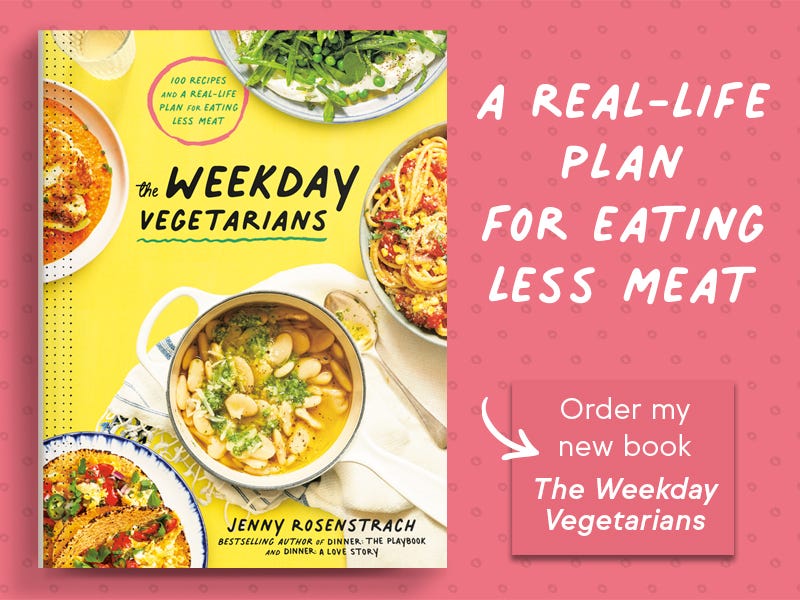 To get the latest posts delivered right to your inbox, subscribe to my newsletter.