I don't know why it's taken me so long to tell you about these beans. Maybe it's because it's one of those recipes that's not really a recipe, which is, of course, the best kind of recipe. Every time I make them, I text someone a photo saying, you have to make these beans. Then I follow up with the "recipe," so easy it fits in one text:
soak lima dried beans all day in a pot. an hour before dinner, simmer in same pot and same liquid; add an onion, any fresh herb, bay leaf, lots of salt, and some hefty glugs of olive oil. taste after 40 minutes. serve beans in its own stock. top with burrata or pesto or both
I'll tell you what I like the most about this dinner. It's not just that the beans wind up so creamy and flavorful or that there's beautiful burrata involved so how could it be anything but delicious, or that you can customize a bowl to please whoever is showing up at the table. (Not eating dairy? Skip the burrata. Not eating gluten? Skip the toast. Beans not enough for your meat-eater? Add cooked sausage.) It's mostly because it reminds me that there is a silver lining to being home all day, staring at a screen and using every ounce of psychic energy to not check Twitter. I start my beans in the morning, and the ASMR rush I get from pouring my Rancho Gordo limas into a large pot is as energizing as the coffee I'm drinking while I do so. Then, all day long I swear to God I keep thinking of those beans. It just feels so satisfying to know they're soaking, working, waiting for me to stop typing so they can say hi, how was your day?
About hour before I want to eat dinner, I shut down my computer (hahahaha) and start playing Stone Soup, artlessly tossing quartered (halved? whole?) onions, herbs and oil into the pot until, finally, turning on the heat and simmering. I don't strain or rinse, I use the same pot, the same water. Total hands on time all day long: Maybe 3 minutes? And in 45 minutes: Dinner.
Brothy Beans with Burrata
So, yeah, here's the official recipe that wouldn't make the best text, but once you get the hang of it, I encourage you to follow that shortcut formula above, so you can really have fun with it. Note: I imagine this can also be done in an Instant Pot or pressure cooker; just skip the pre-soaking and cook using the high pressure setting for 25 minutes. (But know you won't have your beans rooting for you all day that way.) I haven't made them last-minute like this for a while (I'm always home!) so report back if you have notes on that method.
Makes 4 cups
16 ounces dried large lima beans (preferably good quality ones from a farmer's market or Rancho Gordo)
½ medium yellow onion, roughly chopped
1 tablespoon kosher salt
freshly ground black pepper
¼ cup extra-virgin olive oil, plus more for drizzling
1-2 dried bay leaves
8-10 sprigs fresh thyme
For serving: squeeze of fresh lemon juice, burrata, store-bought pesto, crusty bread
In the morning: place the lima beans in a Dutch oven or large pot, cover with water by about 2 inches, and let them sit for at least 6 hours and up to 8 to 10 hours.
About an hour before dinner: Add more water to cover the beans by about 1½ inches. To the pot, add the onion, salt, pepper, olive oil, bay leaves, and thyme, and bring to a boil. Then lower to a simmer, scraping off any foam from the surface as it cooks. Start checking for tenderness at about 40 minutes. You want them to still be holding their shape, but creamy in the inside.
Once tender, do not drain the beans. Pick out the thyme sprigs (they will just be leafless twigs) and scoop beans into serving bowls with a little of the bean broth. Finish with another drizzle of olive oil and serve with any combination of the suggested toppings, making sure that burrata is one of them.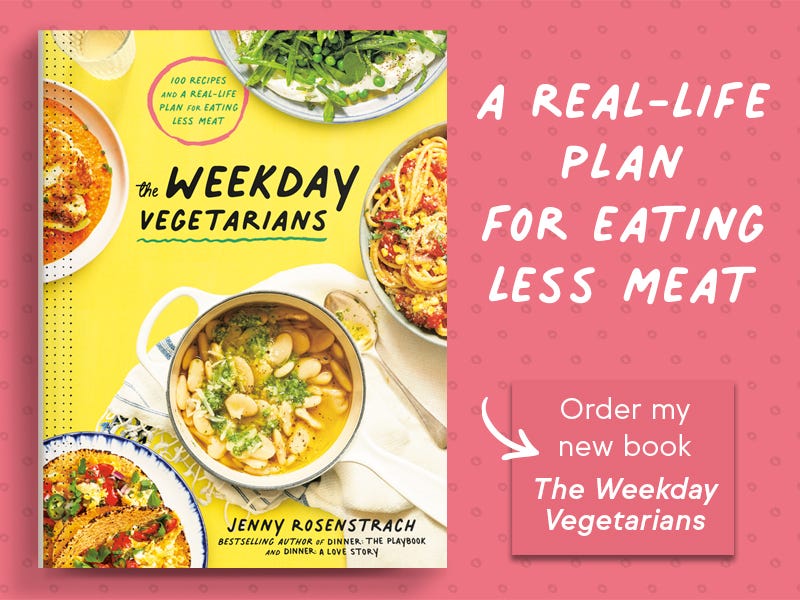 PS: This recipe first appeared on substack. If you want to be part of the conversation as it's happening, be sure to subscribe to that newsletter. Every week, I send out one email called Three Things with a round-up of, yep, three things I think you'll find interesting. In addition to reading suggestions, there are also my signature super simple dinner ideas. This part is all FREE. If you want book teasers and access to my hotline and shopping lists, you can subscribe for $5 a month. And yes, I'm still posting here on this platform, but I'm really going to town with the newsletter. Hope you'll join me somehow whatever you choose!