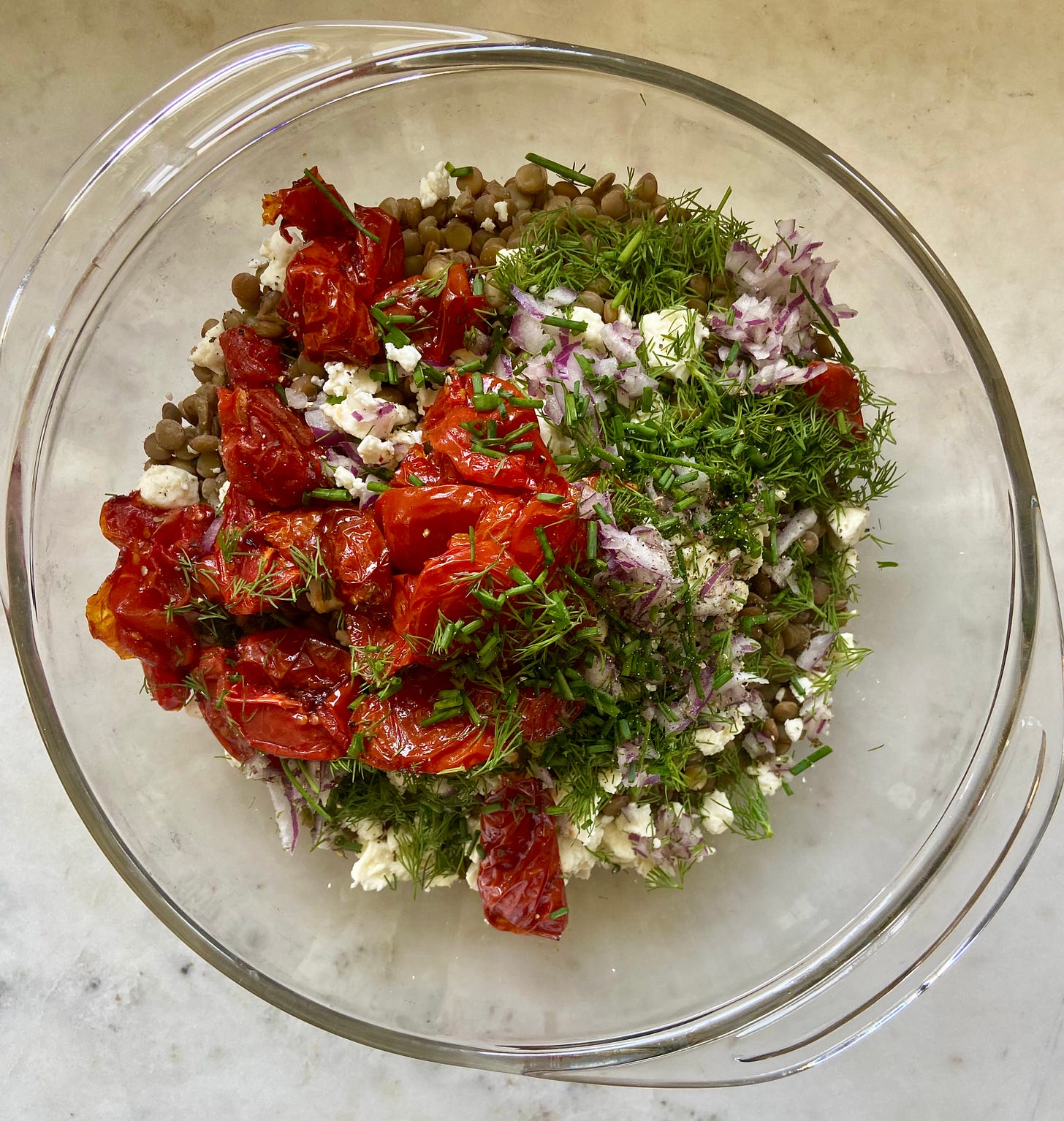 The plan for our Memorial Day Cookout is…pretty much the same thing as any other summer cookout in the DALS house: A few grilled proteins surrounded by three or four or five as-fresh-as-possible salads. I like this strategy for a lot of reasons, but chiefly because, when people are coming over, it favors advance planning — I generally make all the salads ahead of time, which allows me to sit back and relax with my guests and our rhubarb-tinted gin & tonics (coming in the May 24 newsletter) while Andy throws some sausage or fish on the grill.
I do set a few ground rules for myself with the menu planning though: One salad must be gluten-free and dairy free; one of the salads should do its best to show off the season (like fava beans or ramps); and one of the salads must be protein-heavy, something that feels like it could anchor the plate for a vegetarian. Below is an example of what I mean by that — it's my take on an old Ottolenghi lentil salad, which taught me about the value of oven-dried tomatoes. I realize I've mentioned this a few times already (you can ask my husband: I tend to seize on things) but out-of-season tomatoes, when roasted low and slow, become sweet and jammy and totally addictive. Here, they play very nicely with the salty feta and a shower of herbs.
Lentil Salad with Jammy Tomatoes and Feta
In the dressing, I use Trader Joe's white balsamic vinegar, which I like because it's lighter and not cloyingly sweet like so many others. If you can't find a nice dry white balsamic, use red wine vinegar instead. Serves 4-6.
Dressing
1 teaspoon Dijon
3 tablespoons white balsamic vinegar (or red wine vinegar)
1/4 cup olive oil
kosher salt and freshly ground pepper
Salad
14-16 small-ish tomatoes (I've used Roma and those small-medium size red tomatoes still on the vine) quartered
2 tablespoons olive oil
1 tablespoon regular balsamic vinegar
kosher salt and freshly ground black pepper
1 1/2 cups brown lentils
3/4 cup crumbled feta
3 tablespoons chopped fresh dill
3 tablespoons chopped fresh chives
10 fresh mint leaves, minced
1 tablespoon finely minced red onion
Make dressing: Whisk together the Dijon, vinegar, olive oil, salt, and pepper until emulsified. Set aside.
Preheat the oven to 275°. Quarter tomatoes and place skin-side down (or else they'll stick) on a baking sheet lined with parchment paper or foil. Drizzle over the olive oil and balsamic vinegar and sprinkle with some salt. Toss the tomatoes gently using your hands to make sure all of them are coated in a little oil. Roast for 1½ hours.
Bring lentils and 6 cups of water (or broth) to a boil and simmer until tender but still holding their shape, 15-20 minutes. Drain and let cool.
Gently toss lentils with tomatoes, feta, dill, chives, mint, red onion, and dressing. Season with salt and pepper to taste.
To get my recipes (and podcasts and reading recs and way way more that what is on this blog) delivered right to your inbox, subscribe to my newsletter.