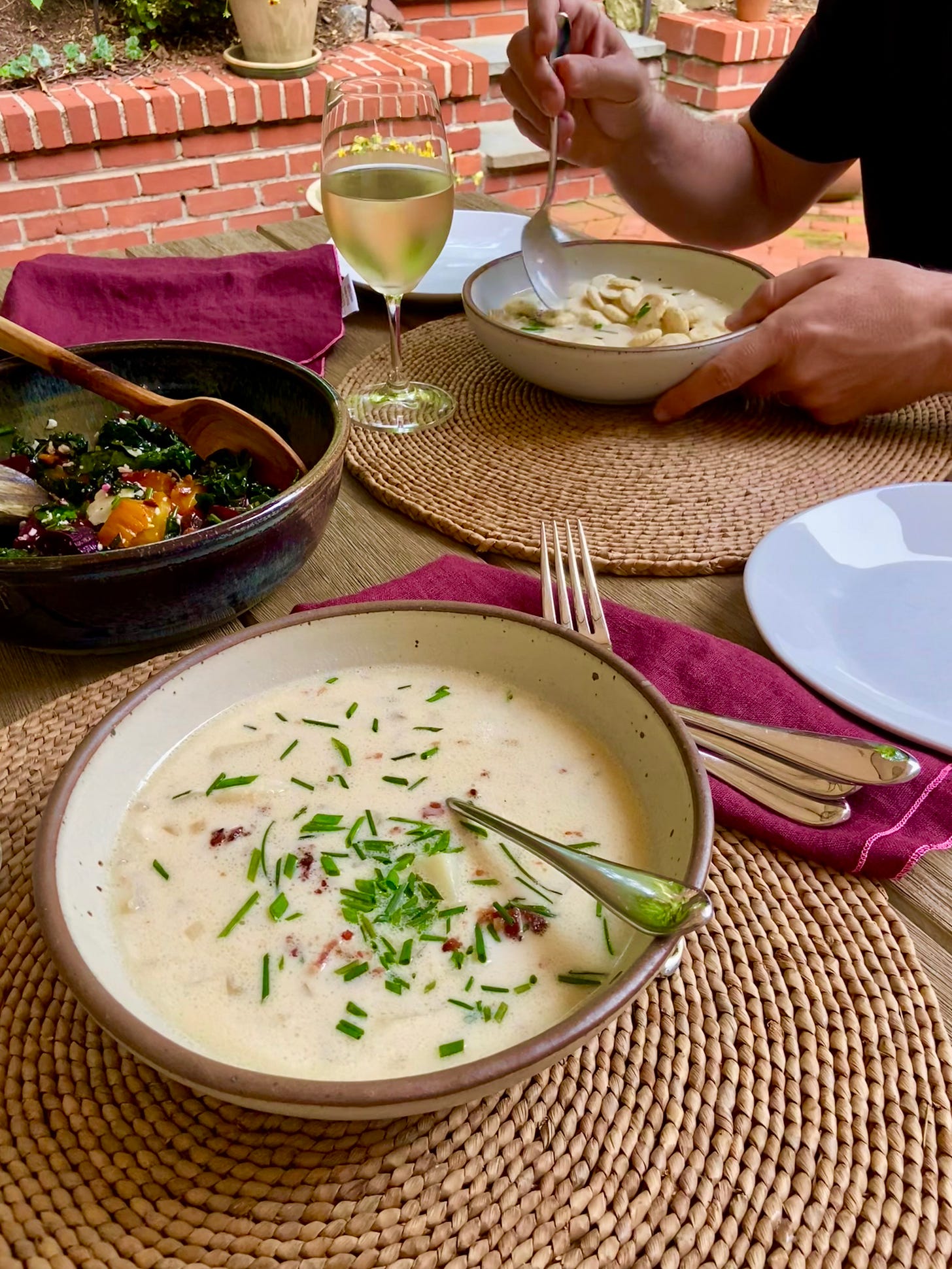 When we were in Maine a few weeks ago, we road-tripped to Damariscotta, a picture-perfect town on the Damariscotta River famous for its pristine, hearty oysters. It's one of those small towns that seemed to have every business necessary to live the good life as a food lover — a butcher-gourmet store, a seafood market, a robust used bookstore, an old pub, an oyster house, etc — and the best version of each one to boot. After downing a few dozen Pemaquid oysters at popular Schooner Landing, we wandered into the charming Kingfisher & The Queen, a shop that specialized in the coolest vintage housewares and gifts, and low and behold, what did I see perched on a little bookstand, next to a jar of antique clothespins and a few bags of Swedish candies, but my first book, Dinner: A Love Story. Poking out of its pages was one of those handwritten recommendation cards (Andy tells me they're called "shelf talkers") mentioning that someone named Prudence loved the book, and in particular, how much someone named Roger loved the Swedish Meatballs recipe. Maybe it's just that the older I get, the more I appreciate how writing books has allowed me to expand my community and connect with people, but I can tell you with certainty that these moments will never get old, in fact they are extremely heartwarming every single time. I found Roger working the register (Prudence, his wife, had just taken off for the day), and then it became an exchange of mutual praise ("I love your recipes!" "I love your store!") and of books — I signed that Dinner: A Love Story for him and he handed me a vintage copy of…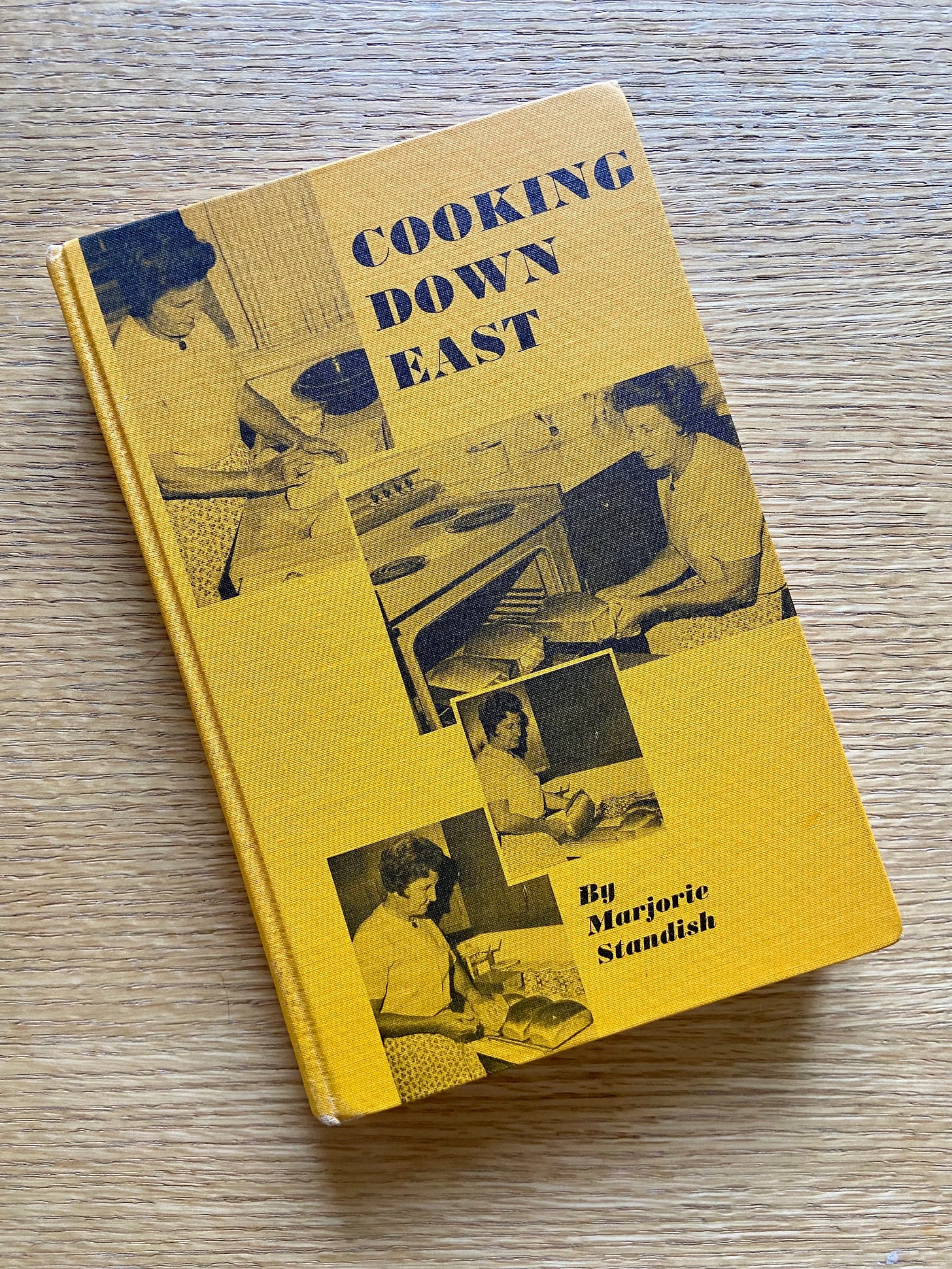 …the iconic Cooking Down East: Favorite Maine Recipes, by Marjorie Standish. I had no idea it was iconic until Roger told me it was, and I didn't realize how much I was craving the collection until it was in my hands. It was packed with all the classics: Fish Chowder, Clam Chowder, Corn Chowder, Rolled Haddock Fillets, Loafs and Casseroles and Fricassees, as well as recipes with the best names, like Fish Spencer and Gillie Whoopers. It was published in 1969 during the Joy of Cooking period when the recipes were formatted like this: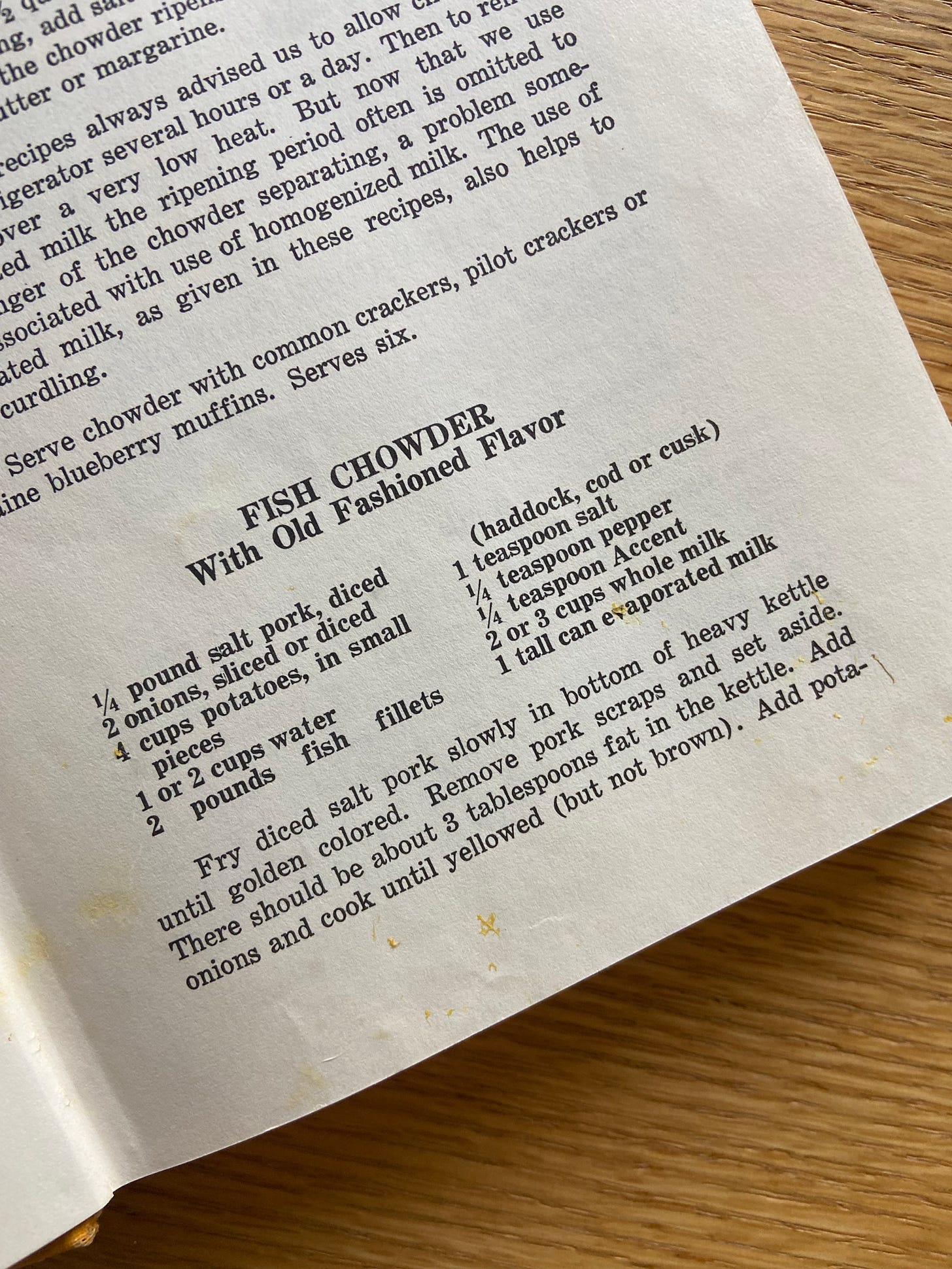 Maybe it's just that I'm so in the thicket of cookbook writing right now, but the spareness of the recipes really spoke to me. There's a trust thing going on — no longwinded headnotes trying to convince anyone to make what follows, or where you might find cusk, or what "1 tall can of evaporated milk" might work out to in ounces. These are recipes written for cooks who are capable of making leaps: "Cook until done" is a frequent instruction and I had to fight the urge to text my editor to let her know I would be immediately re-writing my next book to reflect this format. But I didn't. I did the next best thing, tackling Marjorie's Fish Chowder With Old Fashioned Flavor (the old-fashioned flavor being, I guess the MSG/Accent?) and setting out to prove to myself that I am one of those capable cooks. Plus, I've always wanted an alternative to Eventide's Clam Chowder, which, as you know, is an astonishing bowl of chowder, but also one that requires clam grit-cleaning and clam juice straining, as well as a significant amount of both concentration and big-ticket clean-up items…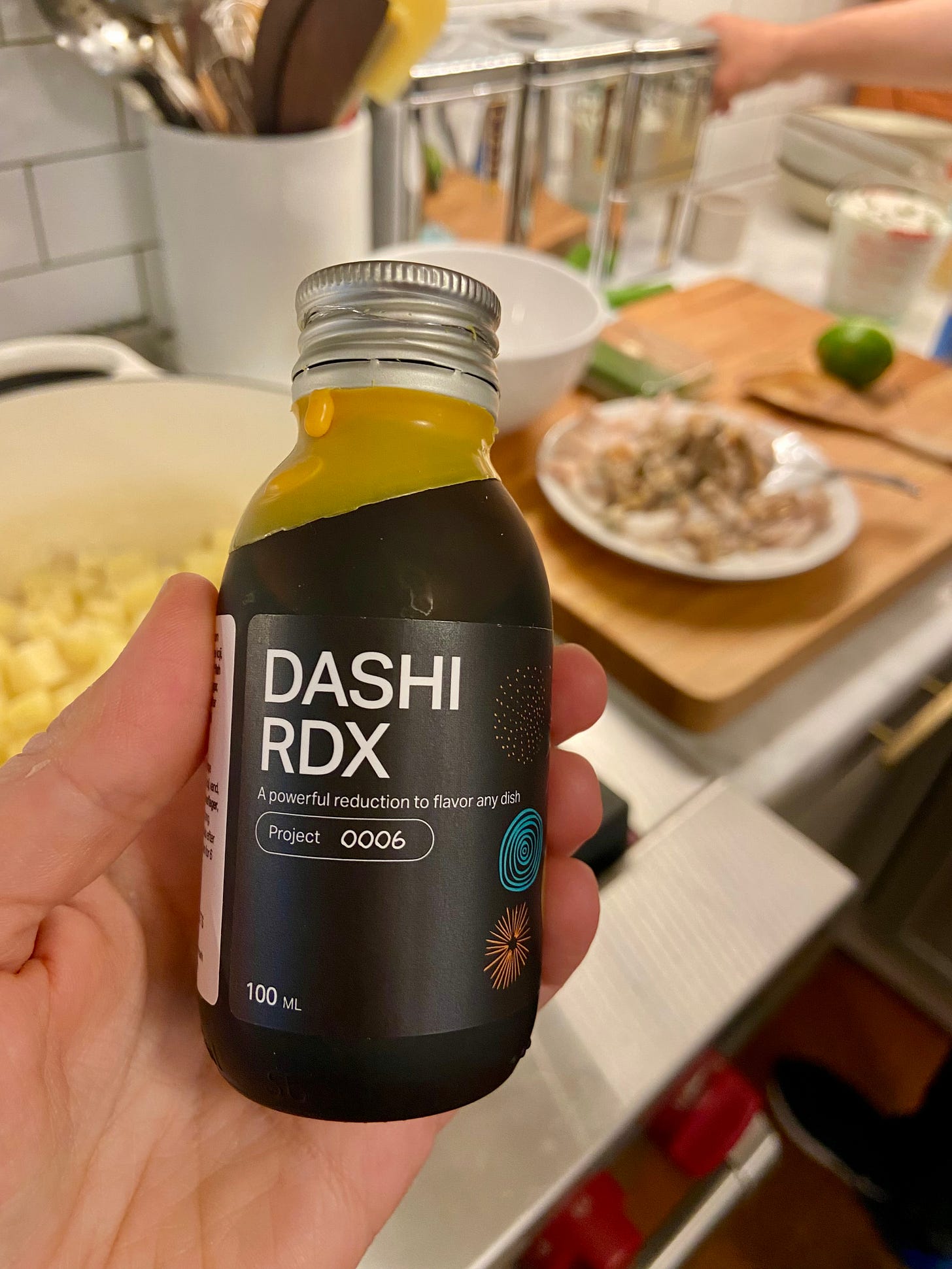 …We swapped in this Dashi RDX for the Accent. (I have nothing against MSG, but we just didn't have it in the house.) A bottle of the Dashi arrived in the mail a few weeks ago as part of a promotion, and we've been having fun figuring out ways to use it. It's a syrupy umami potion, concocted by the Noma Projects team, and made with kombu, bonito flakes, sake, and mushroom. I took notes on other modern updates as I cooked…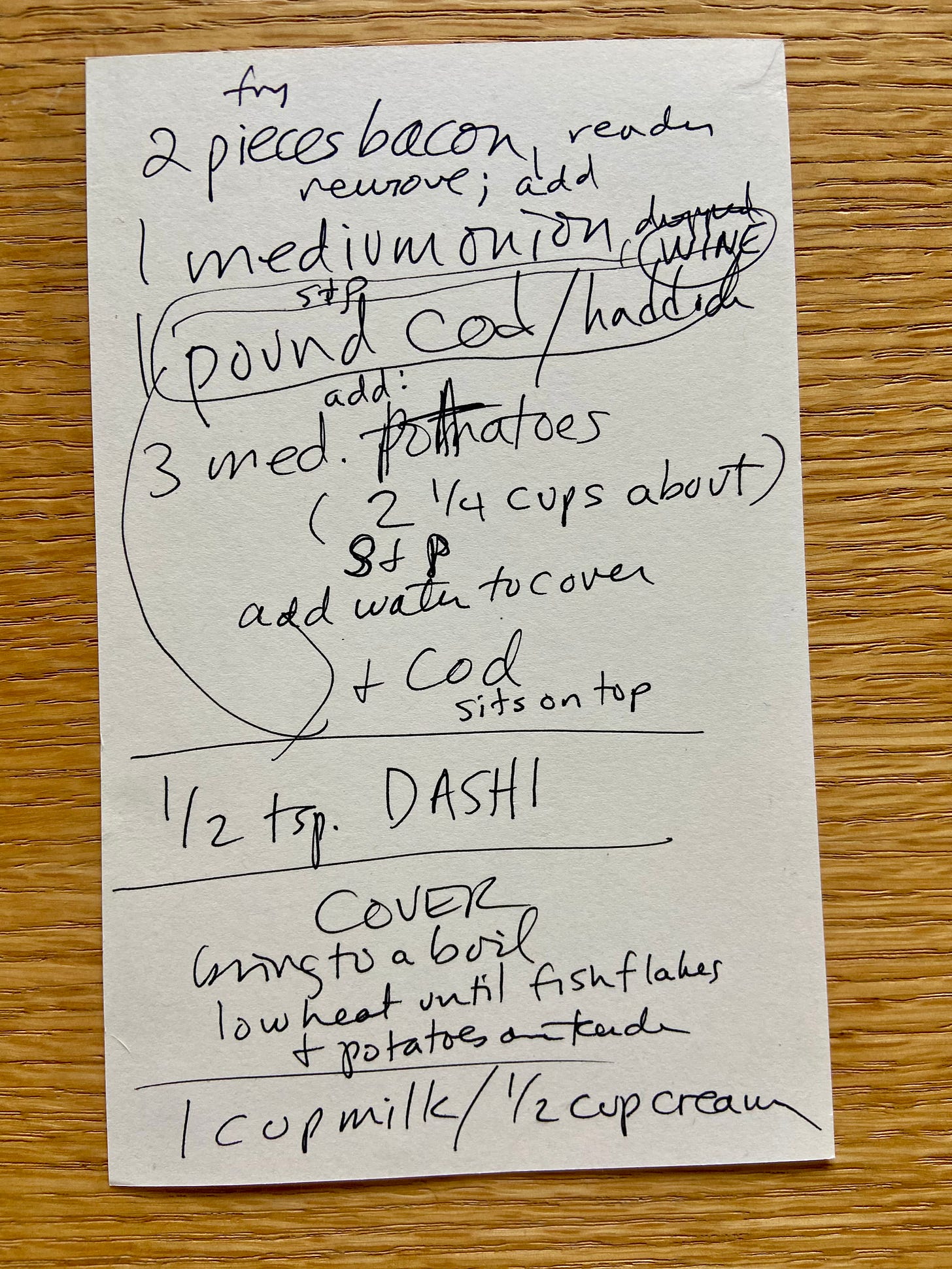 Aren't you impressed by my very official recipe developing process? In the end, though, I did manage to come up with a keeper. Thanks Marjorie Standish! And thanks Prudence and Roger! What a beautiful gift.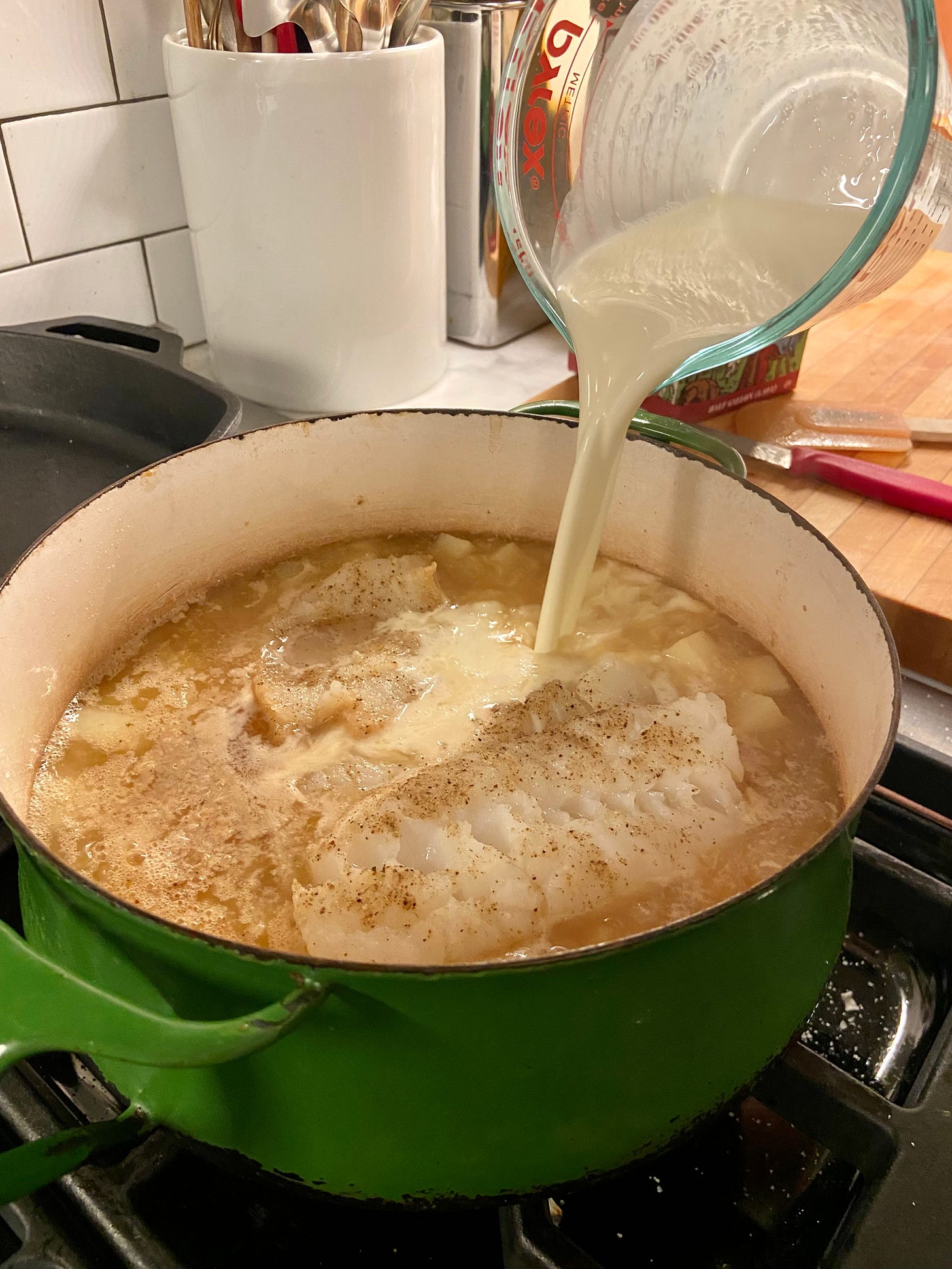 Maine-Style Fish Chowder
Adapted from Cooking Down East, by Marjorie Standish
Serves 4-6
2 piece good-quality smoky bacon
1 medium yellow onion, chopped
kosher salt and freshly ground black pepper
1/3 cup dry white wine
3 medium red or Yukon gold potatoes (peeled and chopped into 3/4 inch cubes)
1 pound cod or haddock
1/2 teaspoons Dashi RDX or Accent or MSG
1 cup whole milk
1/2 cup heavy cream
chopped fresh chives, for serving
oyster crackers, for serving
In a soup or stock pot set over medium heat, fry the bacon until the fat renders and the meat is crisp. Remove to paper towels.
To the bacon fat, add the onions, salt and pepper and cook until the onions are soft, about 5 or 6 minutes. Stir in the potatoes, then add enough water to just cover everything. Bring to a boil, then lower to a simmer, and place the fish fillets on top of the potato-onion mixture, above water level. Sprinkle with more salt and pepper, then cover the pot and cook until the fish is flaky and the potatoes are tender, about 12 minutes. Add the dashi, milk, and cream, and turn heat to medium to warm through. Gently break the fish into large flakes and stir. Serve garnished with chives and crackers.