Greetings Dinner: A Love Story readers, old and new. I'm pleased to present the DALS 2022 Holiday Gift Guide, which, as tradition dictates, attempts to keep your family's and friend's eating and reading pleasures in mind. (Because, really, who wouldn't be ok with that kind of gift.) With few exceptions, all of them are all under $50. Happy shopping and happy holidays, everyone!
Pasta Notecards
friend * mom * secret santa * teacher * daughter * pasta lover 

A pack of notecards featuring everyone's favorite carbohydrate. (Includes farfalle, ravioli, shells, etc.) It's the kind of gift that you see and think, OMG, I know exactly who to buy that for.
Order: Notecards ($38 for a set of 8)
Bloody Mary Gift Box
host * friend * sibling * coworker * parent * regular brunch companion
Brighter and tangier (tangy-er?) than your average Bloody Mary Mix, this combo pack works just as beautifully as a virgin drink as it does when mixed with vodka. Comes with pickled green beans and sriracha-pickled cucumbers.
Order: Bloody Mary Kit ($35)
A Book of Blessings
host * partner * bff * grandparent * teacher * that friend who just isn't into material things
If you read my newsletter, you know my daughter, an English major, recommended that I listen to John O'Donohue, the Irish poet and philosopher on Krista Tippett's On Being podcast, where he gave his last interview before he died in 2008. O'Donohue believed in beauty as a human calling, and the idea that if we approach the world with "a watchful reverence" we will be amazed by what it will reveal to us about ourselves. When I wrote about him, reader Deirdre recommended this book of Blessings, which I promptly ordered for Phoebe, but I keep putting off gift wrapping it so I can read his peaceful, comforting prose myself.
Order: To Bless The Space Between Us ($14)
Baking Book of the Year
bakers * parent * host * friend * teacher * Gramercy Tavern superfan
The first cookbook in twenty-one years from the legendary pastry chef at New York's Gramercy Tavern. Don't miss her take on our family's most favorite cookie ever, the Mallomar. Includes more than 140 recipes.
Order: Delectable: Sweet & Savory Baking, by Claudia Fleming ($34)
Indigo Dinner Napkins
host * friend * mom * secret santa friend
Hand-dyed, one-of-a-kind flour sack napkins –j ust the kind of beautiful thing you'd probably never think to buy for yourself. Which is of course what makes it a great gift.
Order: Indigo Shibori Dinner Napkins ($34 for set of 4)
An Immense World
friend * partner * teacher * college kid * grandparent * nature lover * poet
From my intern/husband Andy: "I've been giving this as a gift—or, better, a tonic—to pretty much everyone I know since it came out in June, and I'm not going not stop this holiday season. Why? Because Ed Yong's sense of wonder shines through on every page, but also because this book is the perfect antidote to the relentless acid bath that is my Twitter feed, a much-needed reminder that this world is so much bigger and more beautiful than we can even know."
Order: An Immense World, by Ed Yong ($20)
Marbelized Tray
mom * best friend * design nerd * that person who has everything
How beautiful is this? Light-weight, made from birch wood and just as practical as it is decorative. My friend Catherine keeps the tray on her coffee table where she uses it to hold books and magazines, but also deploys it for drinks and snacks when company shows up. (She has the metal tray stand, but it's optional.)
Order: Marbelized Tray (19″ diameter; about $82)
Squeeze Bottle Olive Oil
host * mom * dad * stocking stuffer * friend * coworker * food enthusiast 
I bought the high-quality finishing oil ("Drizzle") for a gift, from my new favorite local provisions store (shout-out Bloomy!), but ended up keeping it for myself because it's so grassy and special and…fun. I use it on everything from hummus to soups to pastas. Now I want the whole set.
Order: Graza Drizzle & Sizzle Olive Oil ($35)
Decadent Cookies
host * parent * niece/nephew * grandparent * kid * friend * teacher * stocking stuffers * that person you've been meaning to thank all year for doing you a favor
I dream of these NYC Levain Bakery's famously decadent cookies, which are all gooey, crispy, and cakey. We have bonafide arguments in my house about which flavor is the best (I'm classic chocolate chip all the way) but the truth is, you can't go wrong with any of them. I guess that's what the assortment option is for. P.S. They're selling a range of holiday flavors and festive tins now, too.
Order: Levain Cookies ($29-$79)
Flower Griddle
kid * parent * friend * design nerd 
It's true what they say: Anything can be art, including breakfast. Make things even more fun on Sunday mornings with pancakes molded in the shape of the Japanese artist's iconic flowers.
Order: Takashi Murakami Pancake Griddle ($40) UPDATE: Already sold out, I'm so sorry. Try your luck here.
Batched Cocktail
host * neighbor * brother * parent * spouse * displaced detroit native * cocktail enthusiast
Last time I wrote about this pretty, herby cocktail (which was invented in Detroit), I remember thinking that it would look especially festive for this time of year. Especially if paired with a Negroni or batched in a flip-top stopper bottle. Tie a ribbon and note around the neck and you're set. To make: 1 cup gin (I use Boodles), 1 cup Luxardo maraschino liqueur, 1 cup green Chartreuse, 1 cup freshly squeezed lime juice (about 10 juicy limes). Mix all together in a giant pitcher and stir. If you plan to give or serve in the stopper-topped bottle, keep in mind that its throat is very thin, so best to pour your mixed cocktail into it using a funnel or a pitcher with a very thin-lipped spout. Chill until you are ready to give or drink.
Order: Set of 4 bottles ($25) or one ($12), plus approx. $50-75 for gin, Chartreuse, maraschino liqueur
Jewish Food Puzzle
kid * parent * friend * grandparent * synagogue pal * secret santa/hanukkah fairy gift
Black-and-white cookies, matzoh ball soup, bagels, babka, kosher hot dogs…I can't guarantee someone won't be starving working on this 500-piecer, but they'll definitely be entertained.
Order: 100 Most Jewish Foods Puzzle ($20)
Babka
grandparent (esp jewish grandparent) * parent * party host * coworker * displaced New Yorker
Speaking of which. Stock up on these and delight holiday party hosts with their next morning's breakfast treat. (Or, even better, bundle it with the above puzzle.) I've tasted a lot of babkas in my day and imho Zabar's Chocolate Babka still remains king. Prove me wrong!
Order: Zabar's Homestyle Babka ($15/loaf, cinnamon or chocolate)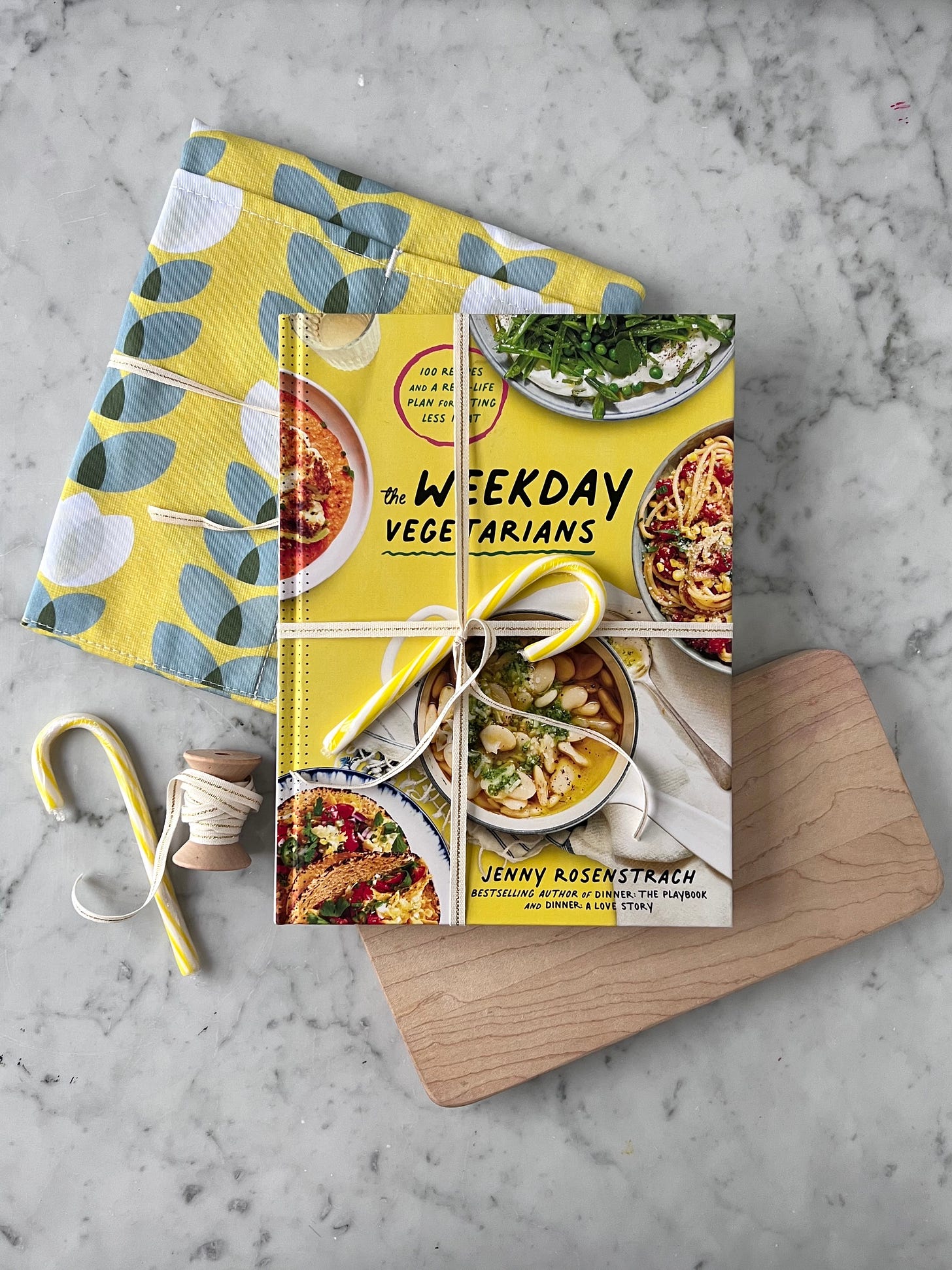 Cookbook + Apron
friend * coworker * teacher * sibling * host * meat lover (not a typo!) 
Know someone looking to dial back on meat but just can't figure out how to start? The Weekday Vegetarians helps out every step of the way — even if you're cooking for young kids. P.S. Cookbooks make the best "bundling gifts," i.e. it's so easy to add something little and special to round out the present. Here, Jodi Levine bundled my latest cookbook with the coolest apron. (Be sure to check out the rest of her extremely creative gift guide.)
Order: Apron ($29), The Weekday Vegetarians ($21)
Gift Gides through the years
Gift Guide 2021
Gift Guide 2020
Gift Guide 2019
Gift Guide 2018
Gift Guide 2017
Gift Guide 2016
Gift Guide 2015
Gift Guide 2014
Gift Guide 2013
Gift Guide 2012

Wow, I've been doing this a long time. (Can't promise that all the older gift links are still active).
Have a great holiday!
Jenny