You know what ingredient makes my heart sink a little every time I come across it in a recipe? Vegetable broth. I know, I know, cry me a river, but I just cannot find a store-bought vegetable broth that doesn't have, how do I say this…top-notes of low-tide on the marsh? Weekday Vegetarian owners know this is why, when I have time, I opt for making my own — even a 30-minute simmer of onions, carrots, parsley and mushrooms (especially mushrooms), and whatever else in water will yield something tastier than what comes in a carton. But here's a thing I discovered during my book research: Because I so rarely have mushrooms to spare in my house, I instead rely on mushroom powder to lend my broth (and also stir-fries) that crucial meaty earthiness. Mushroom powder can be a little pricey, but a little goes a long way — I am just now finishing up this bag I bought two years ago. In any event, I was happy to have it in my pantry last Friday when my Like Magic partner Jodi (a vegetarian) came over for lunch. I wanted to make her hot soup with what I had on hand (I enjoy these kinds of pantry-raid challenges, oddly) which, it turned out was a head of cauliflower, some carrots, onions, and some last-legs parsley. But I'm telling you, deploying that mushroom powder saved the day. (So did the crispy fried onion garnish, courtesy of Trader Joe!) And thanks to some olive oil, the soup ended up tasting like a velvety mushroom bisque.
Pureed Cauliflower Soup with SUPER EASY Homemade Vegetable Broth
Adding the extra olive oil at the end (obviously) makes the soup more velvety and indulgent, but you can skip that if you are after something a bit lighter. Makes 4 small or 3 large servings. P.S. Consider the Broccoli version of this one if you don't have cauliflower. If you want to skip the homemade vegetable broth, you can add two teaspoons of mushroom powder to the onions and garlic in the first step. VEGAN
2 tablespoons olive oil + 1/4 olive oil
1/2 medium onion, chopped
1 clove garlic, minced
kosher salt and freshly ground black pepper, to taste
red pepper flakes, to taste
1 pound cauliflower, florets and stems, chopped
4 cups broth (vegetable, preferably homemade, see below)
toppings: crispy fried onions (Trader Joe's are good), fresh snipped chives or scallions, sour cream or yogurt (if you are ok with it not being vegan)
Add 2 tablespoons olive oil to a soup pot set over medium heat and add onion, garlic, salt, pepper, and a dash of red pepper flakes. Cook until onions are soft, then add cauliflower and broth. Bring to a boil, then reduce to a simmer, and cook until the cauliflower is very soft, about 6 to 8 minutes.
Turn off heat, add another 1/4 cup olive oil, and puree the soup using an immersion blender until silky and smooth. (If you are using a regular blender: Remove soup from heat and let cool slightly. Add 1/4 olive oil, and puree in the blender until silky and smooth. Make sure the plug on the lid is ajar, to allow for some steam to escape and to prevent a pressure build-up. Return the soup to pot to warm through if necessary.) Serve, topped with crispy onions and chives.
Homemade Vegetable Broth
Add 2 quartered onions, 1 garlic clove (halved), 1 tablespoon mushroom powder (such as porcini powder or 4 to 6 ounces mushrooms) and 3 tablespoons of olive oil to a large stockpot set over medium-high heat. Cook until the onions have started to soften a bit and the mushroom powder smells toasty and rich, about 5 minutes.
Add any remaining vegetables and fresh herbs that you have on hand (such as: 2 large carrots, 1 bell pepper, 3-4 stalks celery, thyme, parsley). Cover with water by an inch and season generously with salt (about 1/4 cup), freshly ground black pepper, and a few glugs of olive oil. (Remember: Even if you just have two or three of what's listed there, it will be better than what you buy in a carton!)
Bring to a boil over high heat, then reduce the heat and simmer on low heat for however long you have — preferably between 1 and 2 hours, until the color darkens and the stock tastes rich. You might want to add a little water every now and then to keep the liquid level above the vegetables. Turn off the heat, allow the stock to cool slightly, and pour it through a fine-mesh strainer set over a large bowl. Discard the solids and use the stock right away, or freeze it in small BPA- free, zip-top bags for up to 3 months.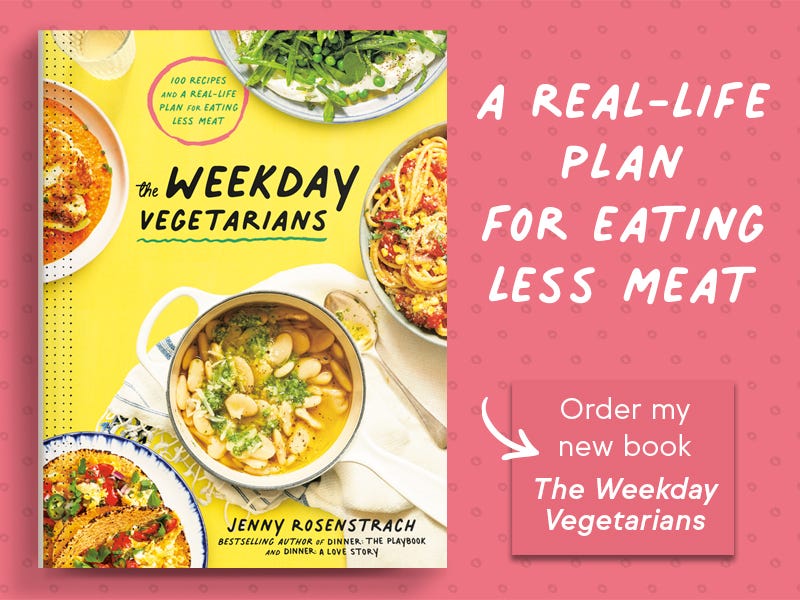 To get the latest posts delivered right to your inbox, subscribe to my newsletter.